Quick Answer: Texas offers a few different types of sales tax returns. This blog gives instructions on how to file and pay sales tax in Texas using Form 01-114 Sales & Use Tax Return, a return commonly used by out-of-state sellers. Note: Monthly sales tax reports are due on the 20th of each month. If the 20th falls on a weekend or holiday, the due date is the next business day.
Do You Need to File a Texas Sales Tax Return?
Once you have an active sales tax permit in Texas, you will need to begin filing sales tax returns. Not sure if you need a permit in Texas? No problem. Check out our blog, Do You Need to Get a Sales Tax Permit in Texas?
Also, If you would rather ask someone else to handle your Texas filings, our team at TaxValet can handle that for you with our Done-for-You Sales Tax Service. We specialize in eliminating the stress and hassle of sales tax.
How to Sign-in and File a Return on Texas's Website
Of special note, your Texas online session will timeout after 30 minutes of inactivity! Be sure to hit "Continue" to keep any data you have entered. This also can reset the 30-minute count down.
Step 1: The first step in filing your Texas sales tax return is to log in here.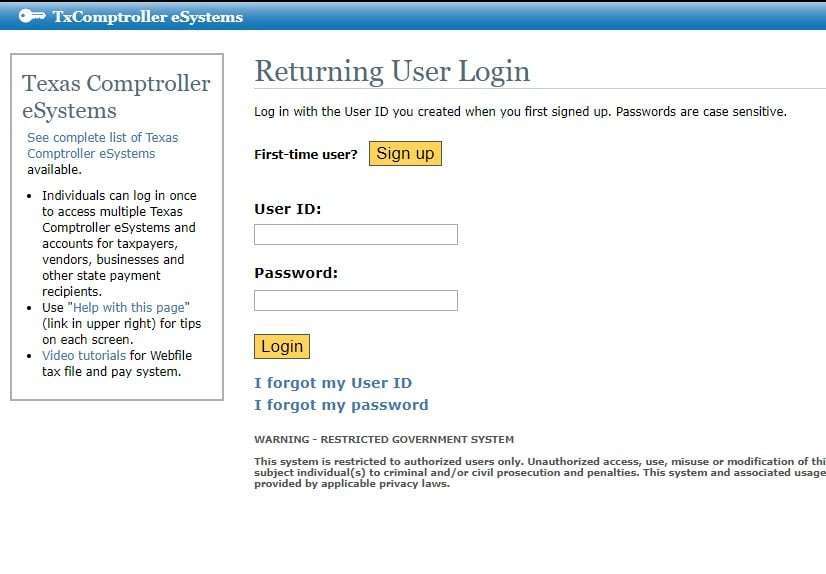 If you do not have a username and password, you need to click on "Sign Up" and then follow the instructions for signing up. If you are not interested in doing the work of getting the permit or a state login yourself, TaxValet can handle that for you with our Sales Tax Permit Registration Service.
You should now be on the "eSystems Menu."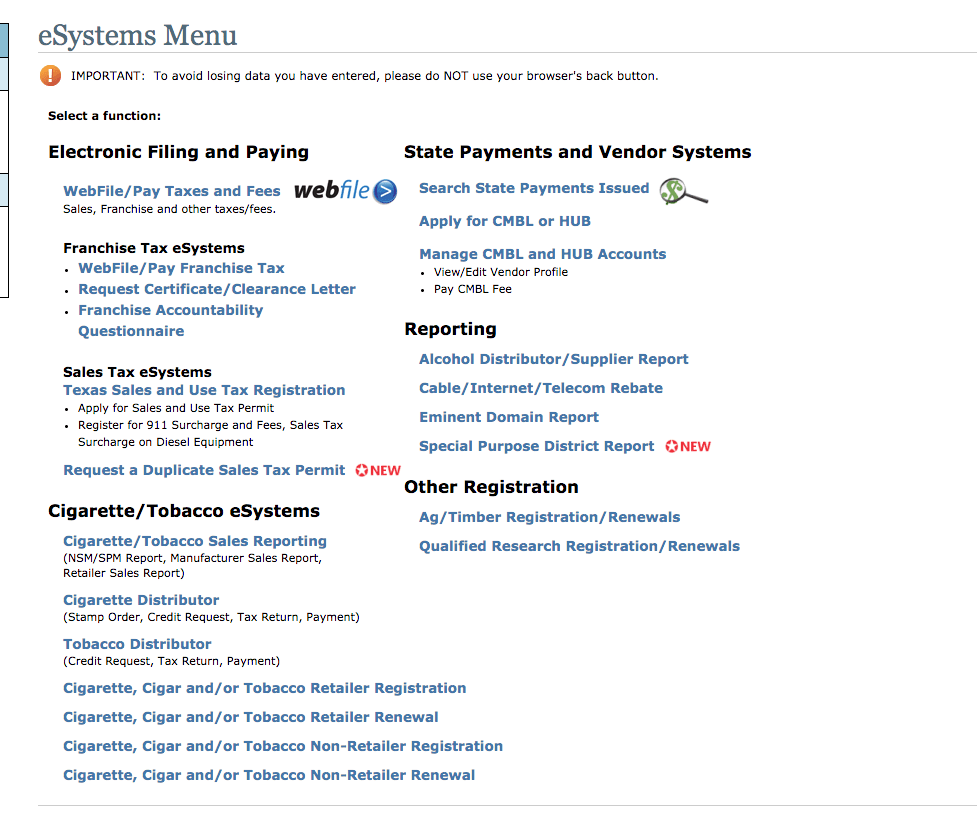 Step 2: On the upper left side select "WebFile/Pay Taxes and Fees." You should now see your taxpayer account number and business name.

Step 3: Click on your account number for the sales and use tax you want to file. You will then land here.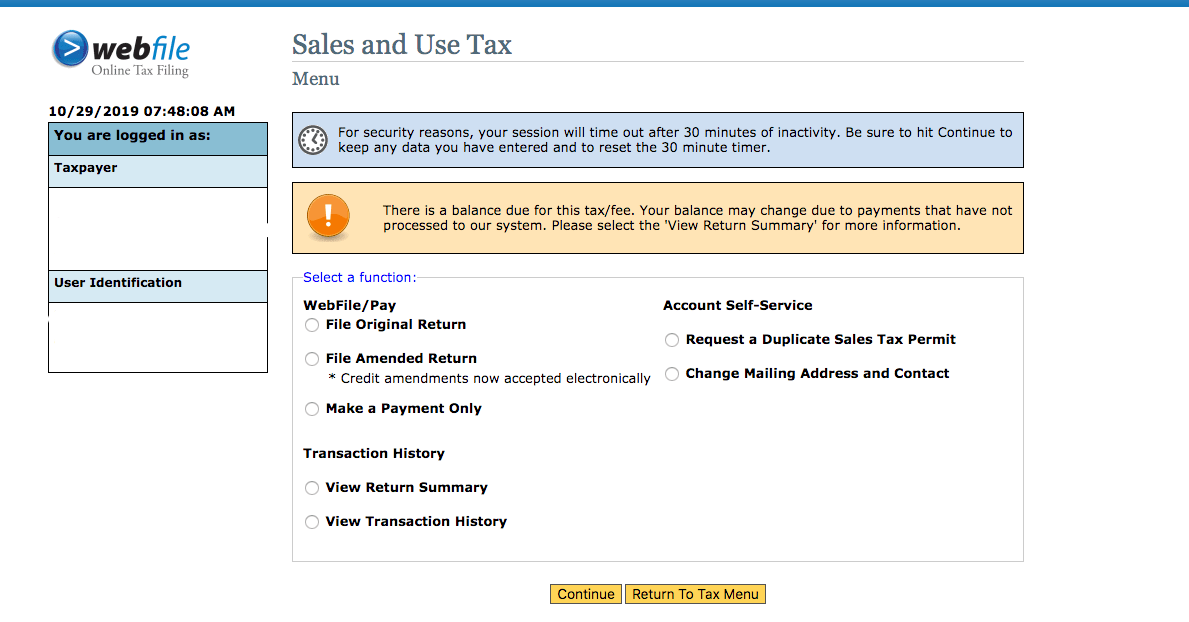 As you can see here, you can also take care of numerous other things on your account in addition to filing a return. We are going to choose "File an Original Return."
Step 4: Click on "File an Original Return." Then select the filing period you would like to file for. Then click "Continue."
Step 5: Answer the credit-related questions. It is important to read the questions. Most of the time the answer will be no but don't skip actually reading the question.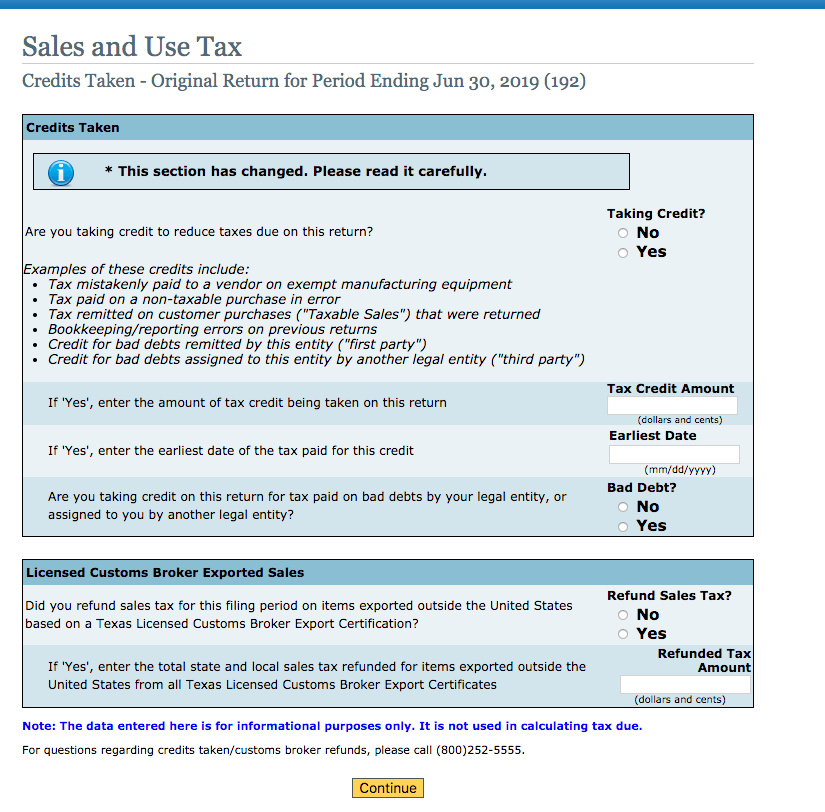 Step 6: Enter your "Total Texas Sales," "Taxable sales," and "Taxable purchases". These entries must be in whole dollars only.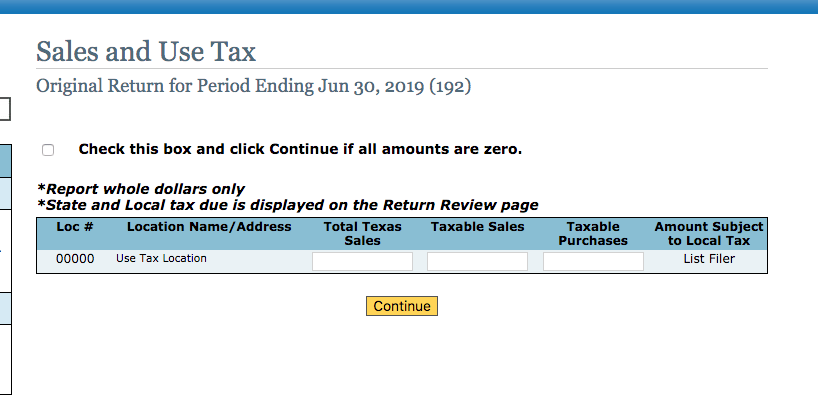 Step 7: You will now be adding jurisdictions and the amount subject to local tax. This can take quite a while. You are given the option to look up the jurisdiction a few different ways on the provided menu. Pick the way that works best for you and click "Continue." Add all applicable jurisdictions.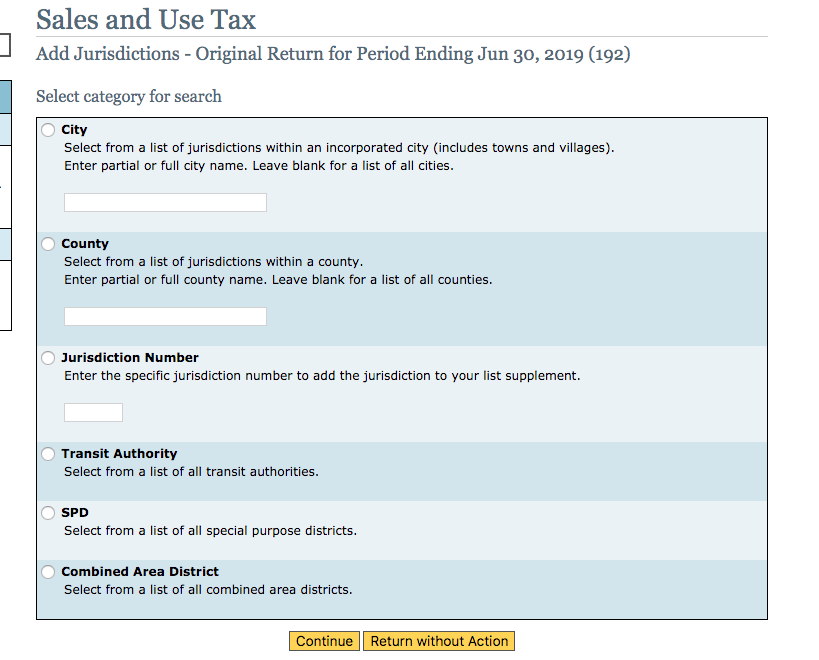 Once you have a list of jurisdictions going it will look something like this.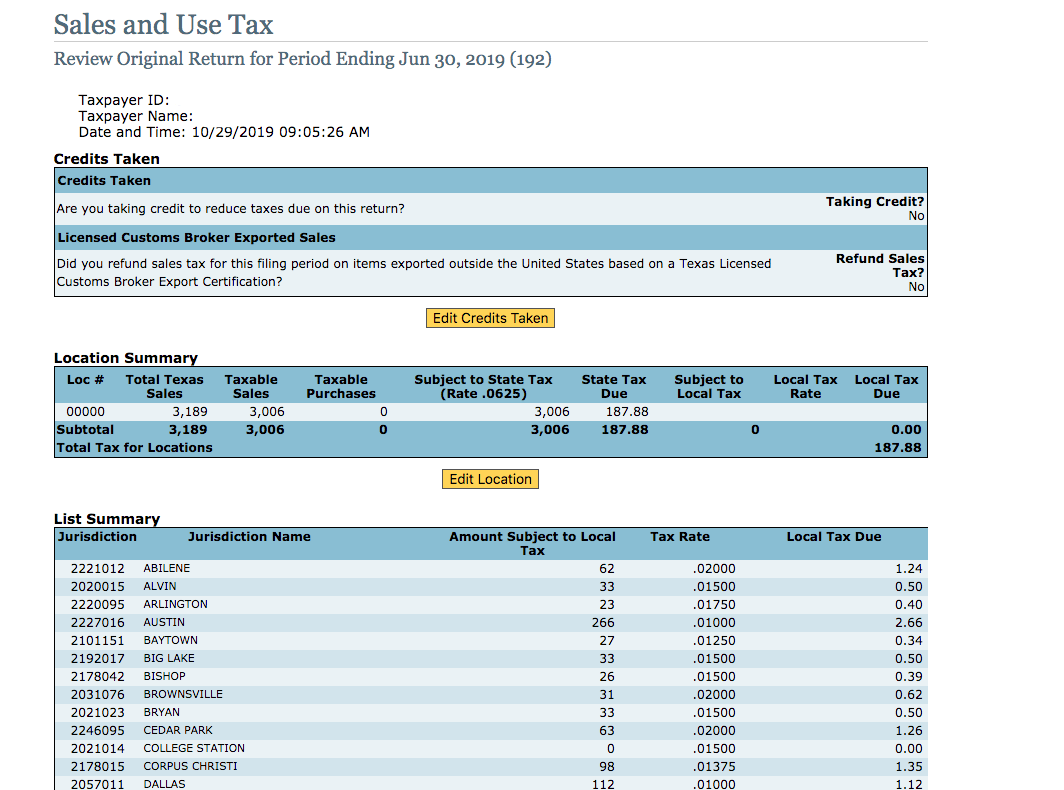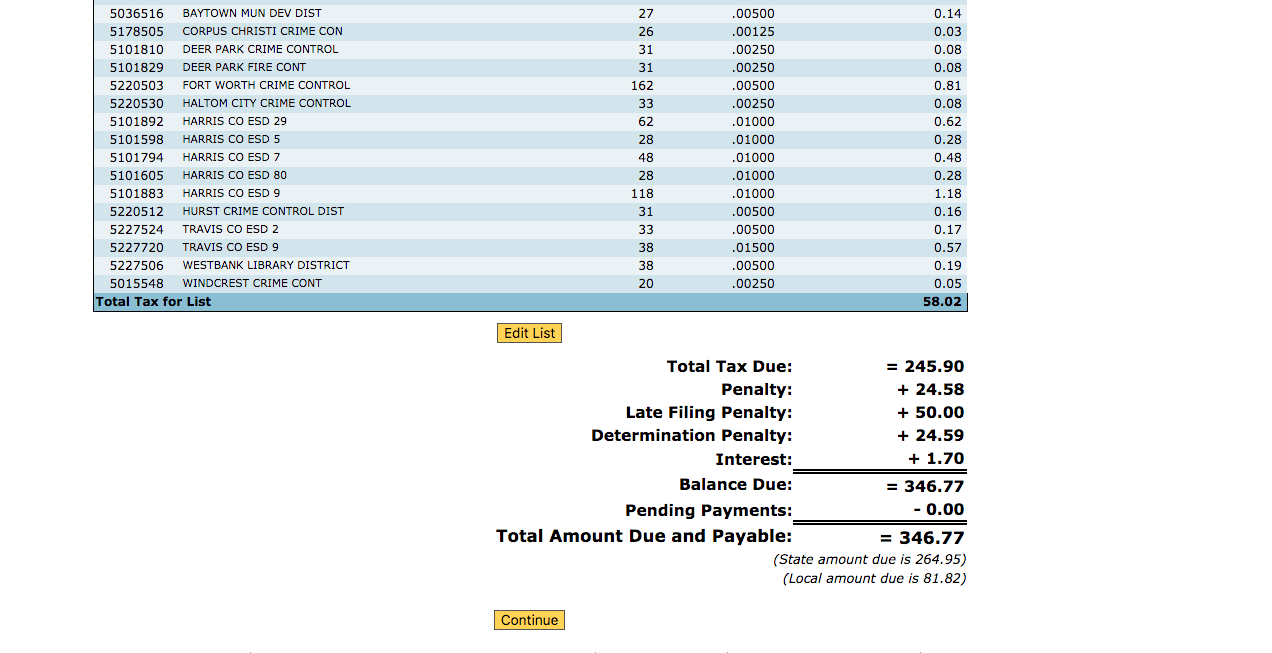 Step 8: This is your chance to review some of your work. If your totals don't match you may go back and edit the list to add more jurisdictions. If your figures look good, you are ready to click "Continue."
You now have the option to file your return with or without payment. Continue reading to learn more about paying with the filing return we just completed.
Hooray! You have now filed your return. Make sure to save the confirmation number that comes up on the screen. We also recommend saving a copy of your return for your records.
To save or print a copy of the return, click "Create PDF to Print or Save."
How to Pay Texas's Sales Tax
You are now ready to make your payment. You can either pay by credit card (includes fee) or electronic check. In this example, we are going to move forward and pay by electronic check.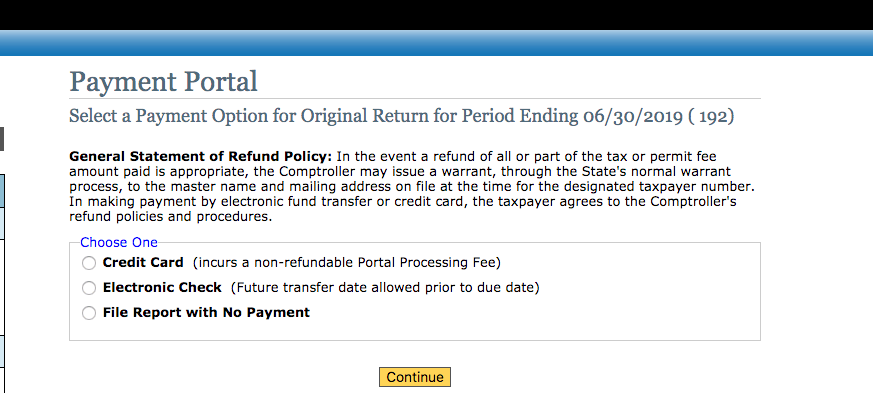 ​
Step 1: Choose your payment option and continue.
Step 2: Enter the amount you expect to pay, type of bank account, routing number, and account number.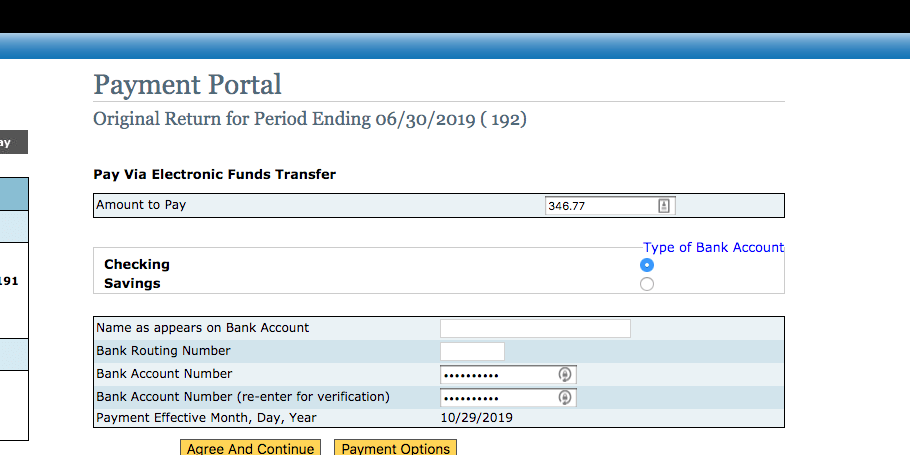 Step 3: Review and submit Payment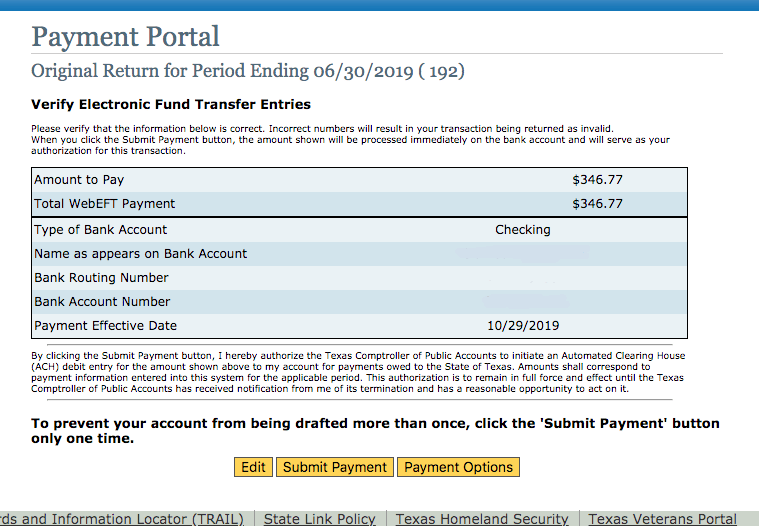 Hooray! You have now made your payment! Your sales tax return is complete.
Things to Consider After Filing a Sales Tax Return in Texas
If you forgot to print or save a copy of your sales tax return, you still can! After you choose your taxpayer number to access your account you can choose "View Return Summary" and print the return you need.
How to Get Help Filing a Texas Sales Tax Return
Lastly, here is the contact information for the state if case you end up needing any help along the way:
Electronic Reporting and WebFile Technical Support: (800) 442-3453
Sales and Use Tax: (800) 252-5555
But if you are looking for a team of experts to handle your sales tax returns for you each month, you should check out our Done-for-You Sales Tax Service. Feel free to contact us if you're interested in becoming a client!
Disclaimer: Nothing on this page should be considered tax or legal advice. Information provided on this page is general in nature and is provided without warranty.