Quick Answer: This blog provides instructions on how to file and pay sales tax in Iowa using form 32-022. This is the most commonly used form to file and pay sales tax in Iowa. You can also use form 32-024 if you are filing use tax only.
Do You Need to File an Iowa Sales Tax Return?
Once you have an active sales tax permit in Iowa you will need to begin filing sales tax returns. Not sure if you need a permit in Iowa? No problem. Check out our blog, Do You Need to Get a Sales Tax Permit in Iowa?
Also, If you would rather ask someone else to handle your Iowa filings, our team at TaxValet can handle that for you with our Done-for-You Sales Tax Service. We specialize in eliminating the stress and hassle of sales tax.
How to Sign in and File a Return on Iowa's Website
Let's start with simple, step-by-step instructions for logging on to the website in order to file and pay your sales tax return in Iowa.
Step 1: Follow this link, https://efilepay.idr.iowa.gov/iao_aaa/welcome.asp, to come to this screen: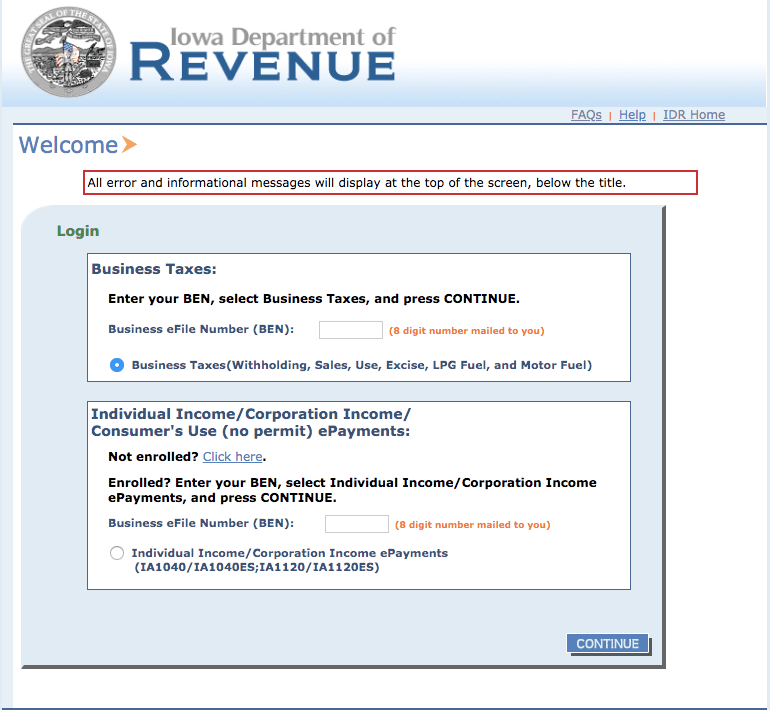 Step 2: First, sign in with your Business eFile Number (BEN). Then follow with your username and password.
If you do not have a BEN, username, or password, then your first step is getting that all setup. These login credentials are generally generated after you submit registration paperwork for a sales tax permit. The Business eFile Number typically comes in the mail after your permit registration is complete.
Step 3: You will be directed to the dashboard for the state after signing in with your username and password.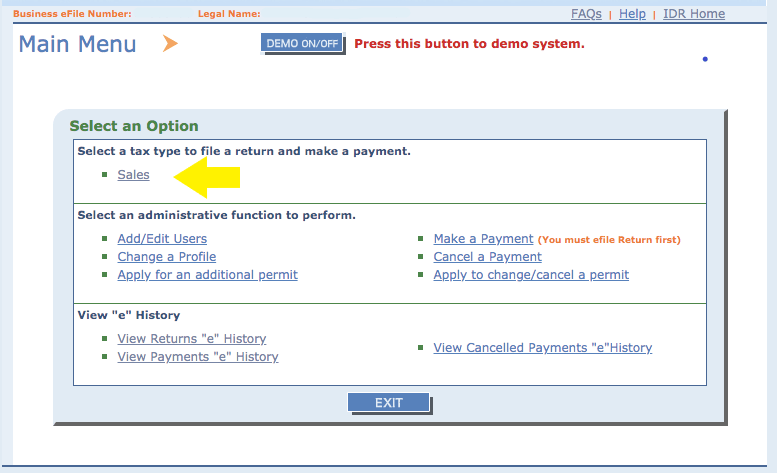 Think of this page as your home base. You can always come back to this page if you get lost. This is also where you can find and access a lot of information about your account.
Take a minute here to look at all of the links in all of the sections of this page. It is a good practice to familiarize yourself with all state dashboards. You can look at the previous returns and payments submitted.
Once you feel that you have a good understanding of the dashboard, proceed by selecting the "Sales" link.
After that, select the permit number from the drop-down menu that corresponds with your sales tax account and click "Continue".
Next, select the period for which you need to file a return and click "Continue".
Step 4: You will be directed to this page.
At this screen, you will need to carefully read each of these questions and select the correct answer.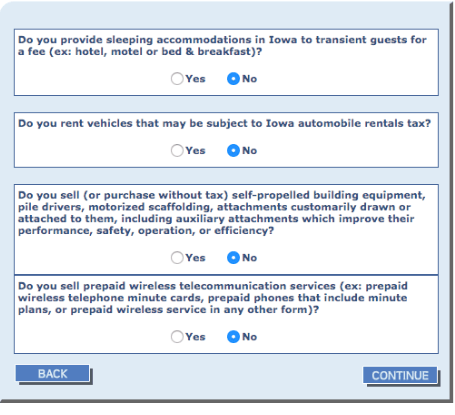 After you have answered each question click "Continue".
Step 5: Key in your sales data
You are now faced with a screen that looks something like the one below. Luckily, the Iowa return is not too complicated. So, let's take a look at this form together.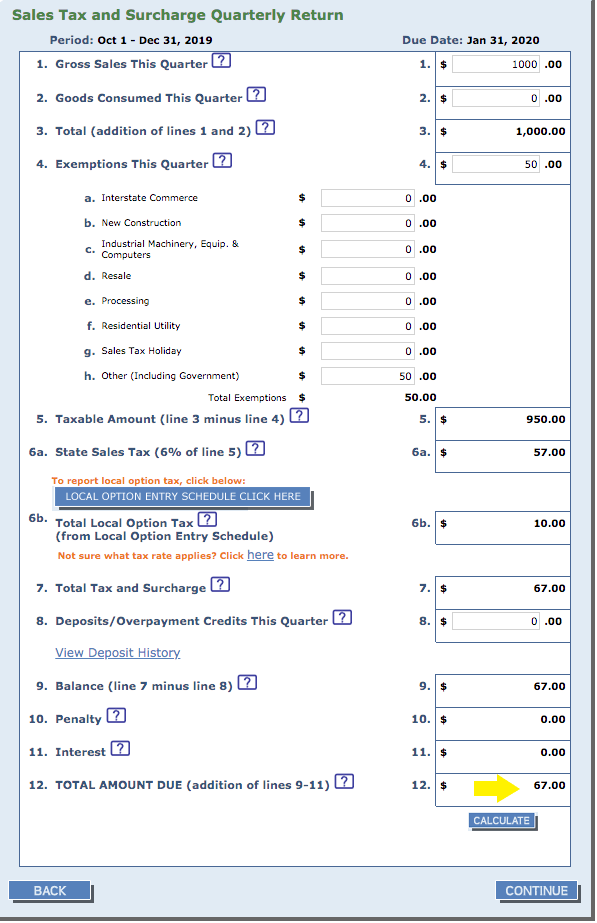 On line 1, you will need to enter your gross sales for the period that you are filing. If you are not a quarterly filer, this form will reflect your filing frequency.
On line 2, you will need to enter in any goods that you consumed in that period that you did not pay tax on. This line is to pay any use tax that you owe. If you have any questions about this, just click the question mark next to line 2 and you will be redirected to a page that explains the entire return.
Line 3 should automatically total the first two lines. Line 4 is where you put any exemptions that you had for this period. This will reduce your taxable sales. Again, if you have questions, click the question mark. Iowa offers a really great explanation of what goes on each line.
Line 5 will total up your taxable amount based on what you have entered so far. Line 6a will display the state sales tax total.
Now you need to click the "Local Option Entry Schedule Click Here" button. You will see a page that has all of the counties in Iowa. You will need to select the counties in which you made sales and click "Continue."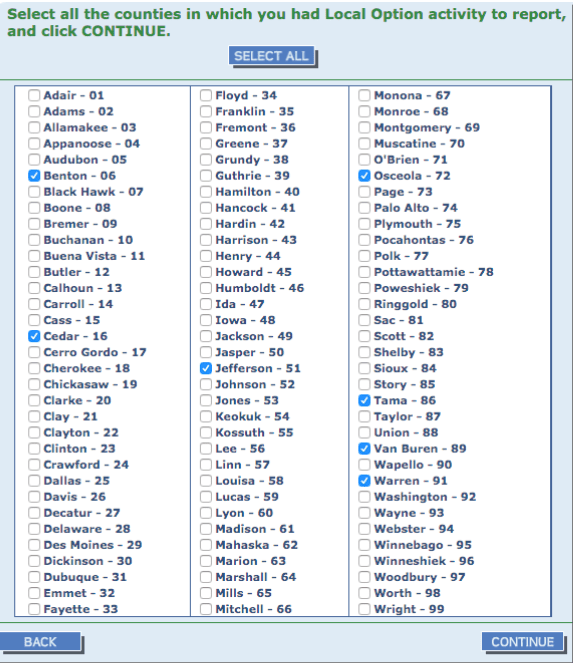 Next, you will report sales made in each county. Be sure that you enter your sales based on line 5 of the main form. Press "Calculate" and then "Continue."
Next, you will return to the main form. If you do not have any credits from a previous period, you will be good to click "Calculate." Now you should see the total amount due on line 12.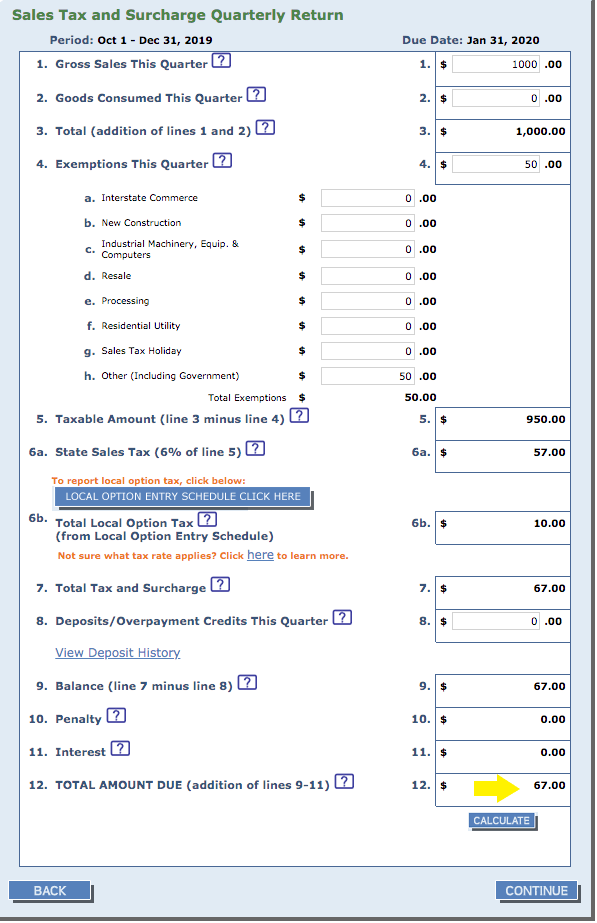 Select "Continue." You will be directed to the summary page. Review all of the information and then click "Submit."
How to Pay Iowa's Sales Tax
If you wish to pay your sales tax due while submitting the sales tax return, go back to the main menu after you finish filing your return. You will see a screen that looks like the one below.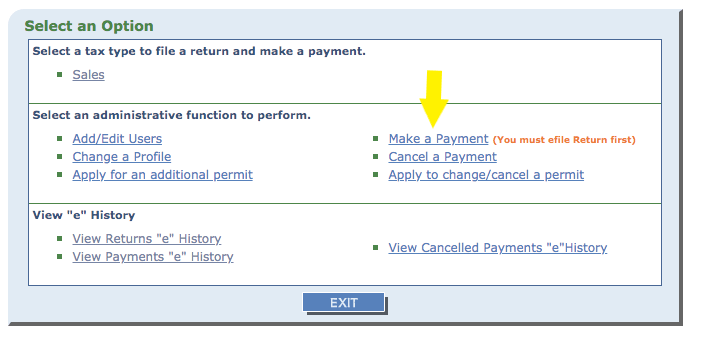 ​Select "Make a Payment". You will see a page where you must select the type of tax for which you are making a payment. You also will have to enter the permit number and the end date of the corresponding return period. Select "Continue".
Now carefully fill in your bank information, the amount due, and select the appropriate due date. Make sure your payment date is scheduled no later than the due date of the tax return.
Once you are sure that everything is entered correctly, hit "Submit".
Things to Consider After Filing a Sales Tax Return in Iowa
If you forgot to print or save a copy of your sales tax return, don't fret. You can easily go back into the period to view and/or print the return that you just filed. Go back to the dashboard and select "View return "e" History".
Select the confirmation number related to the return that you wish to print. That will bring the return up so that you can save or print for your records.
How to Get Help Filing an Iowa Sales Tax Return
If you are stuck or have questions, you can contact the state of Iowa directly at (515) 281-3114 between 8:00 a.m. and 4:15 p.m. CST. You can also find additional resources at the Iowa Department of Revenue (DOR) website.
Instead, if you are looking for a team of experts to handle your sales tax returns for you each month, you should check out our Done-for-You Sales Tax Service. Feel free to contact us if you're interested in becoming a client.
Receive Important Sales Tax Updates to Your Inbox!
Join our mailing list to receive free updates that could help protect your business from audit.
Disclaimer: Nothing on this page should be considered tax or legal advice. Information provided on this page is general in nature and is provided without warranty.