How to File and Pay Sales Tax in Idaho
Quick Answer: This blog provides instructions on how to file and pay sales tax in Idaho using Form 850. This is the most commonly used form to file and pay sales tax in Idaho. You can also use Form 850-U if you are filing use tax only.
Do You Need to File an Idaho Sales Tax Return?
Once you have an active sales tax permit in Idaho you will need to begin filing sales tax returns. Not sure if you need a permit in Idaho? No problem. Check out our blog, Do You Need to Get a Sales Tax Permit in Idaho? Also, If you would rather ask someone else to handle your Idaho filings, our team at TaxValet can handle that for you with our Done-for-You Sales Tax Service. We specialize in eliminating the stress and hassle of sales tax.
How to Sign-in and File a Return on Idaho's Website
Let's start with simple step-by-step instructions for logging on to the website in order to file and pay your sales tax return in Idaho.
Step 1: Follow this link, https://idahotap.gentax.com/TAP/, to come to this screen: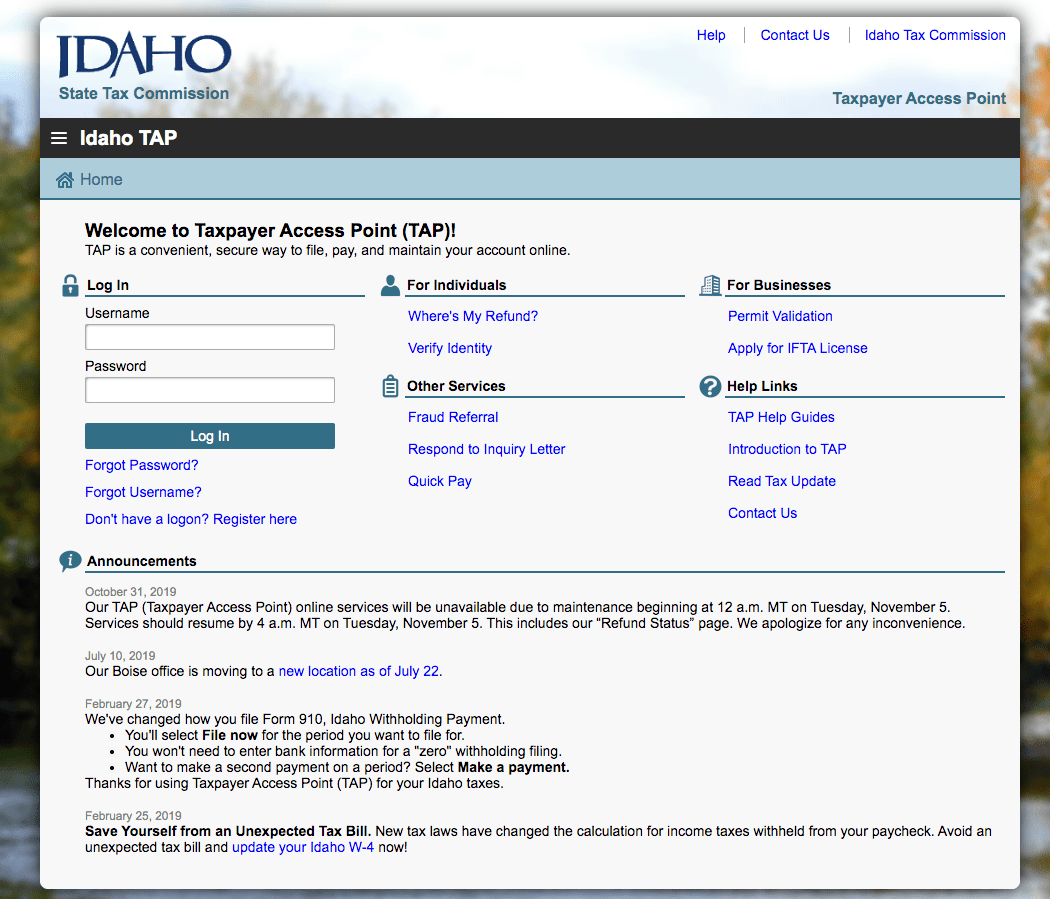 Step 2: Sign in with your username and password.
If you do not have a username and password, then your first step is getting that all set up. These login credentials are generally created when you submit registration paperwork for a sales tax permit.
Step 3: You will be directed to the dashboard for the state.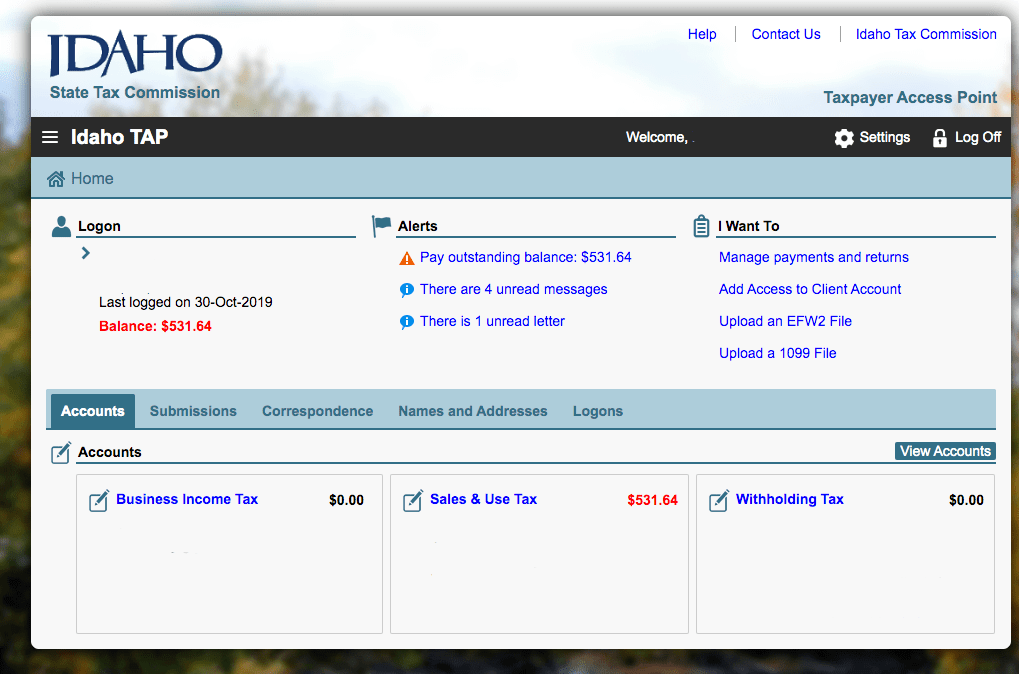 Think of this page as your home base. You can always come back to this page if you get lost.
Take a minute here to see if there are any alerts that need your attention. It is a good practice to get into the habit of checking this page thoroughly. You can also explore the tabs that run across the middle of the page if you would like. The "Correspondence" tab is a good one to look under. You will see any messages or letters received from the state here.
Once you feel that you have a good understanding of the dashboard, proceed by selecting the appropriate account.
Step 4: You will be directed to this page.
On this page, you should be able to see all of the periods that you have filed and the period that you actively need to file. You can also see the status of any of these previous returns filed.
If you have a return due, you will see the option to file the return to the right of the corresponding period. Select the "File Return" link.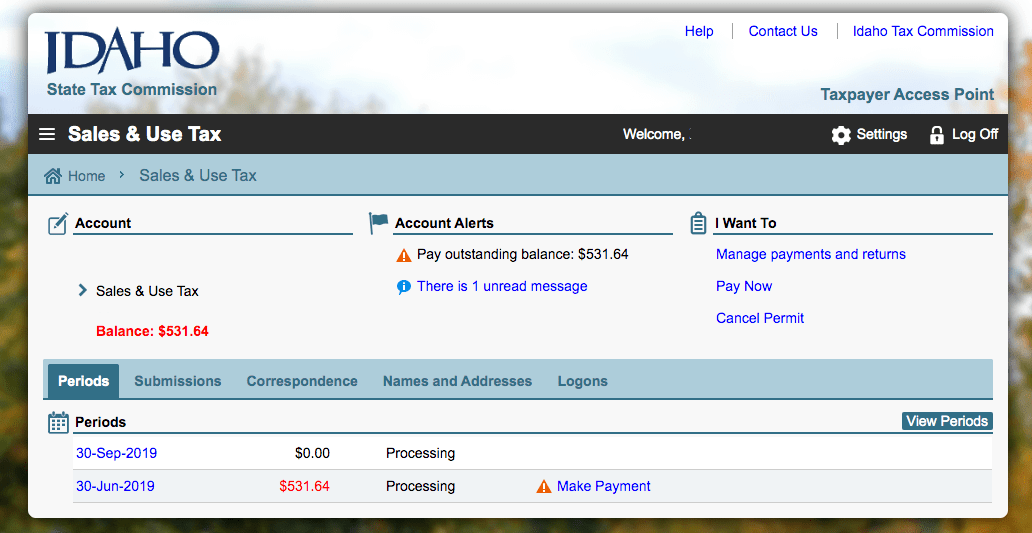 Step 5: Key in Sales Data
If you have filed returns for other states, you will appreciate how simple and easy this Idaho return is. Enjoy it!
You are now faced with a screen that looks something like this: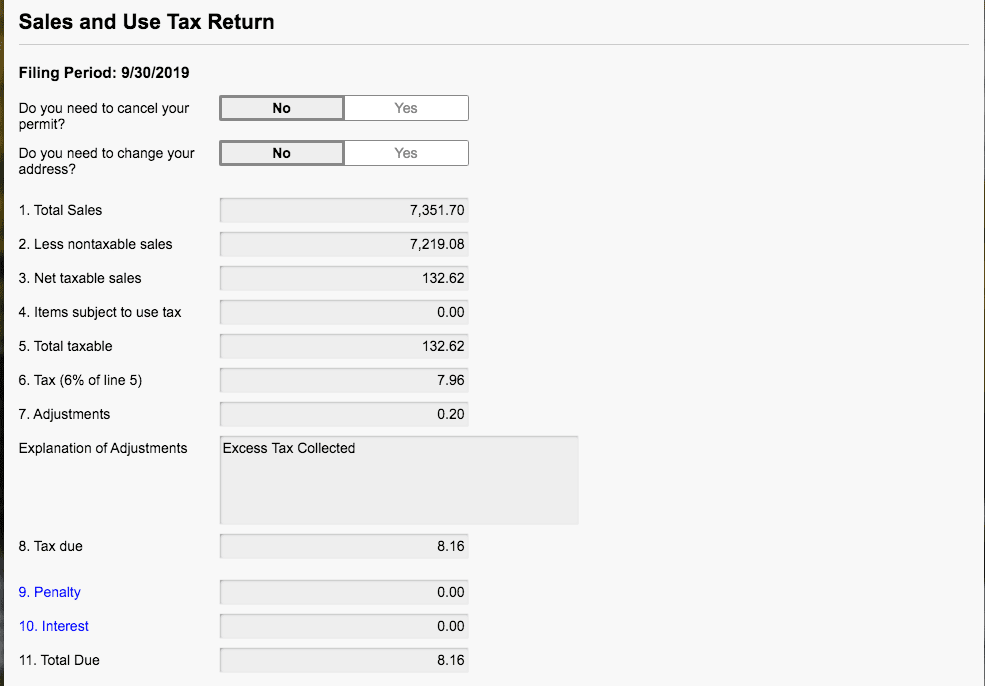 First, answer the two questions at the top. Now let's look at the "Total Sales" and "Less nontaxable sales" entries. Your total gross sales goes into the first box. Your exempt sales go into the second box. This client sells mostly on a marketplace, so that is why their nontaxable sales are so high.
The amount in box 3 should be the actual amount of sales on which you owe tax. If you have any items subject to use tax, enter that value into box 4.
Idaho uses a straight 6% tax rate at the state level. However, there are some cities and auditorium districts with local taxes in Idaho. You can read about those by following this link. Idaho is a little bit behind the curve. They still do not allow businesses to report local taxes on the state return. For that reason, you may need to file separately with some of these local jurisdictions. In particular, you will have to file separately if you are based in Idaho in one of these jurisdictions.
This can be very confusing, I know. However, this blog is about how to file an Idaho return. So let's get back on topic.
You should now see the total tax due to Idaho. If you collected more than the listed amount, you will need to enter the over-collection in the "Adjustments" line and put an explanation of "Excess Tax Collected".
If you are filing this return on-time, you will not owe any penalties and interest. Once you are sure that all of the numbers look correct, click "Submit". You should now be done with your sales tax return for Idaho. That was a pretty easy one, right?
Free State Audit Risk Guide
See which states pose the greatest risk to your business.
State-by-State Audit Risk Percentages
How to Pay Idaho's Sales Tax
If you wish to pay your sales tax due while submitting the sales tax return, select that option after filing your return. You will see a screen that looks like the one below. Carefully, fill in your bank information, the amount due, and select the appropriate due date. Make sure your payment date is scheduled no later than the due date of the tax return.
Once you are sure that everything is entered correctly, hit "Submit".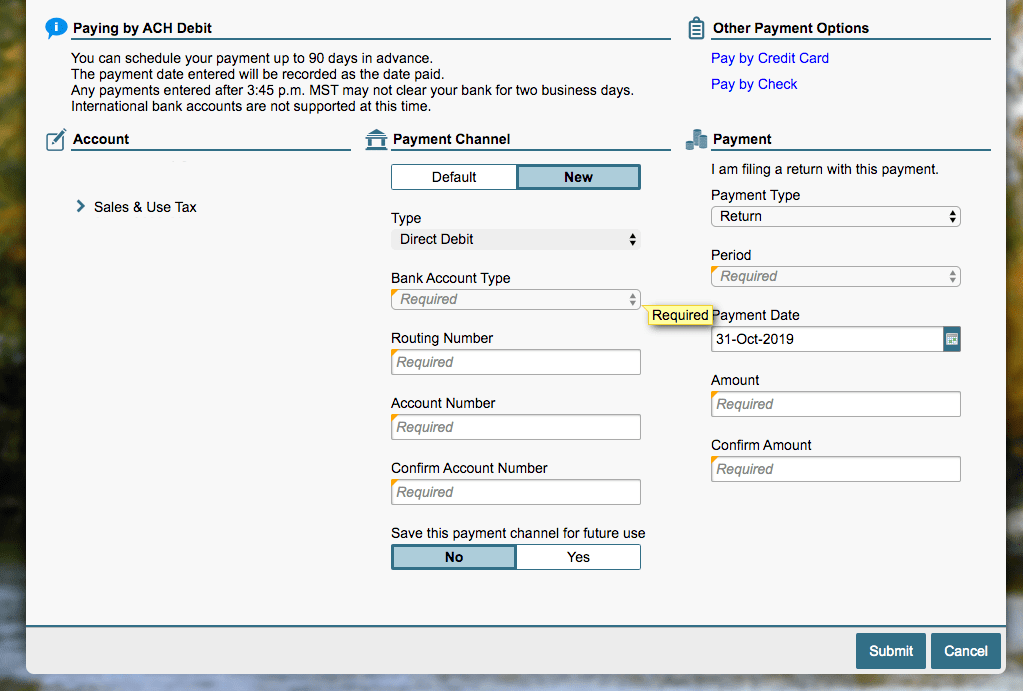 Things to Consider After Filing a Sales Tax Return in Idaho
If you forgot to print or save a copy of your sales tax return, no need to worry. You can easily go back into the period to view and/or print the return that you just filed. Go back to the dashboard and select the "Sales & Use Tax" account. Select the period that you need. Now, look under "Period Activity". You should see something that looks like this:

Select the "Sales Return" link next to the date that you wish to print. Now under "I Want To" select "Print Submission". You can now save or print the return for your records.
How to Get Help Filing an Idaho Sales Tax Return
If you are stuck or have questions, you can contact the state of Idaho directly at (208) 334-7660 between 9:00 a.m. and 4:00 p.m. PST. You can also find additional resources at the Idaho Department of Revenue (DOR) website.
Instead, if you are looking for a team of experts to handle your sales tax returns for you each month, you should check out our Done-for-You Sales Tax Service. Feel free to contact us if you're interested in becoming a client!
Disclaimer: Our attorney wanted you to know that no financial, tax, legal advice or opinion is given through this post. All information provided is general in nature and may not apply to your specific situation and is intended for informational and educational purposes only. Information is provided "as is" and without warranty.
Receive Important Sales Tax Updates to Your Inbox!
Join our mailing list to receive free updates that could help protect your business from audit.
Disclaimer: Nothing on this page should be considered tax or legal advice. Information provided on this page is general in nature and is provided without warranty.