Quick Answer: This blog offers instructions on how to file and pay sales tax (General Excise Tax) in Hawaii online using form G-45 for the state return and G-75 for the local jurisdictions. If you file annually, you will need to file the G-49 instead of the G-45. There is also a separate form, G-45 OT, if you are filing a one-time tax return. If you are filing any of these other forms, note that there may be differences.
Do You Need to File a Hawaii General Excise Tax Return?
Once you have an active sales tax permit in Hawaii you will need to begin filing general excise tax returns. Not sure if you need a permit in Hawaii? No problem. Check out our blog, Do You Need to Get a Sales Tax Permit in Hawaii? Also, If you would rather ask someone else to handle your Hawaii filings, our team at TaxValet can handle that for you with our Done-for-You Sales Tax Service. We specialize in eliminating the stress and hassle of sales tax.
How to Sign-in and File a Return on Hawaii's Website
Let's start with simple step-by-step instructions for logging on to the website in order to file your general excise tax return for Hawaii.
Step 1: Follow this link, https://hitax.hawaii.gov, to land on this screen: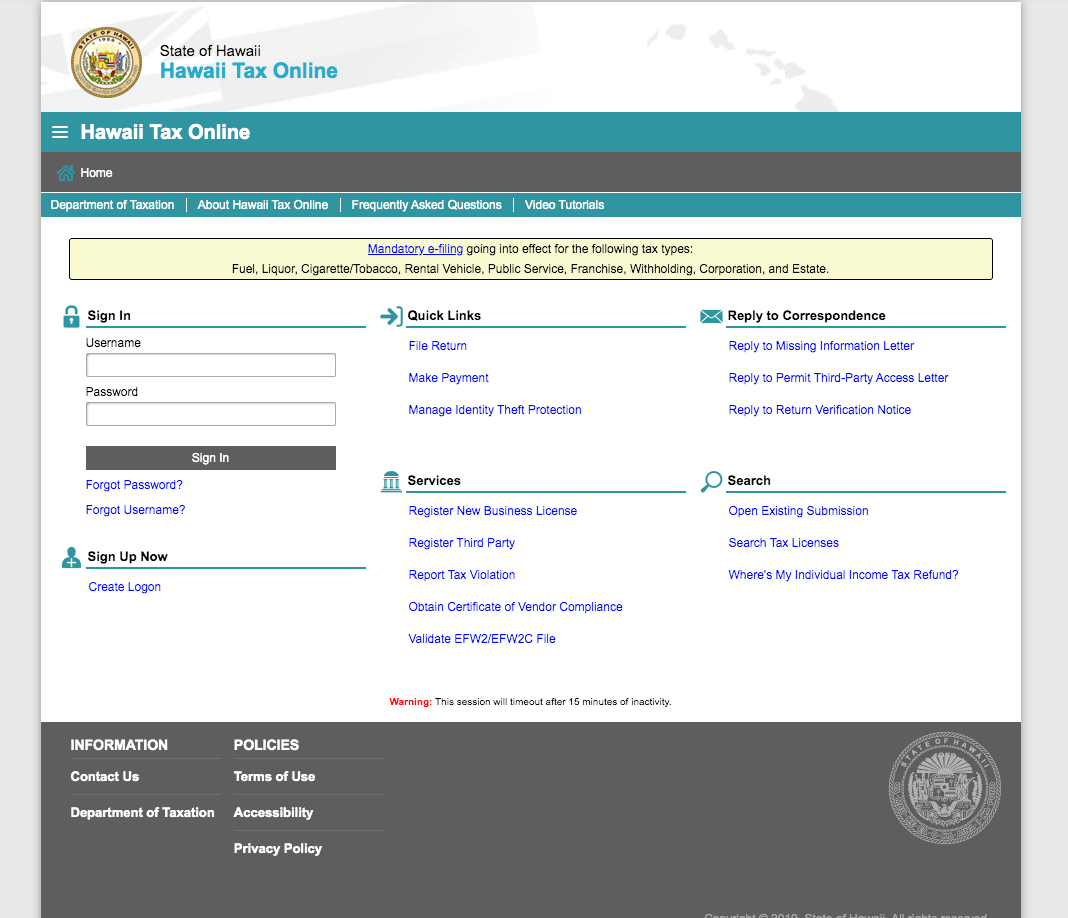 Step 2: Sign in with your username and password.
If you do not have a username and password, then your first step is setting that up. These login credentials are generally created when you submit registration paperwork for a sales tax permit. If you are not interested in doing the work of getting the permit or a state login yourself, TaxValet can handle that for you with our Sales Tax Permit Registration Service.
Step 3: You will be directed to the dashboard for the state.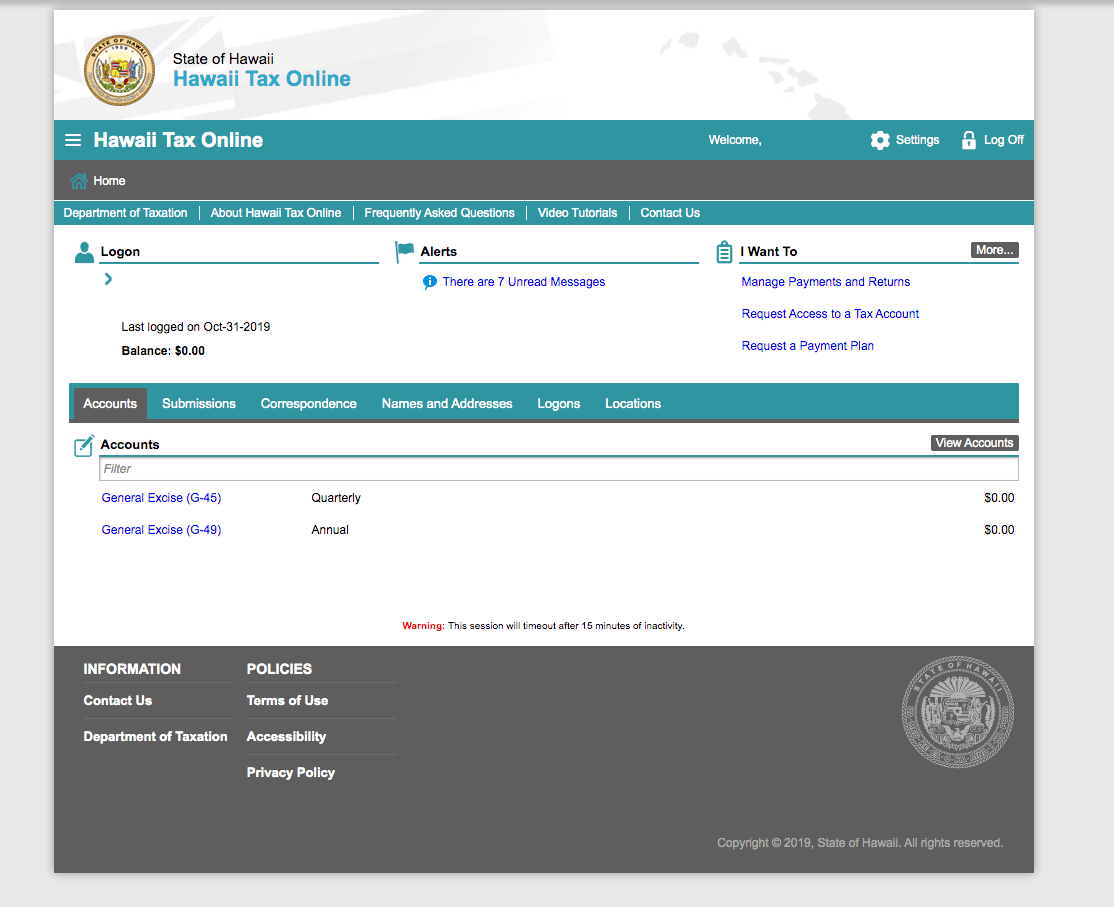 Think of this page as your home base. You can always come back to this page if you get lost.
Take a minute here to see if there are any alerts that need your attention. It is a good practice to get into the habit of checking this page thoroughly. You can also explore the tabs that run across the middle of the page if you would like.
Once you feel that you have a good understanding of the dashboard, proceed by selecting the appropriate account.
Step 4: You will be directed to this page.

As you can see, this business is a quarterly filer. At this page, you should be able to see all of the periods that you previously filed as well as the period that you still need to file.
Start by selecting the "File Return" link to the right of the period that you wish to file.
Step 5: Read the form instructions.
Now you will come to a screen with some instructions. It is important to read them thoroughly. As noted in the middle of the screen, after just 15 minutes of inactivity you will be locked out of the Hawaii tax portal. Be aware of that as you are filing this return.
These instructions also tell you what you need to file this return. You will need your gross sales in Hawaii by tax district and any exemptions that you might claim.
Once you have read this page, click the "Next" button at the bottom right of the page.
Step 6: Select Tax Districts/Answer Questions
You will now see the page below. This is where you will select the districts in which you made sales. Luckily, there are only four options here. If you have filed sales tax returns in any other states, you know that this makes the Hawaii return much easier and quicker.
Now answer the next two questions and select "Next".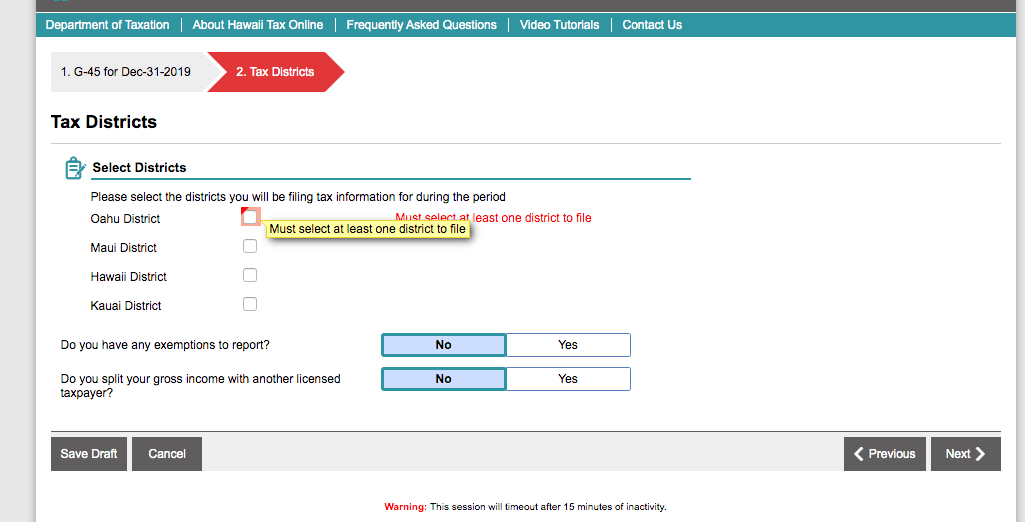 Step 7: Enter in Data by Tax Jurisdiction
You will now be faced with the first part of the G-75 portion of the return. The Hawaii return is structured with four different parts for reporting your taxable sales and then another page where you can report your exemptions.
If you are involved in general retailing, you probably will only use part II. However, please be sure to read each of the four parts of the return to make sure that you use the appropriate section to report your sales.
Also, make sure you read the instructions at the top.

If you have exemptions, make sure that you do not report the gross sales on this page. You should report your net taxable sales here.
Next, key in your sales for each of the different jurisdictions. As you can see below, this business is a retailer that had sales in all four jurisdictions.​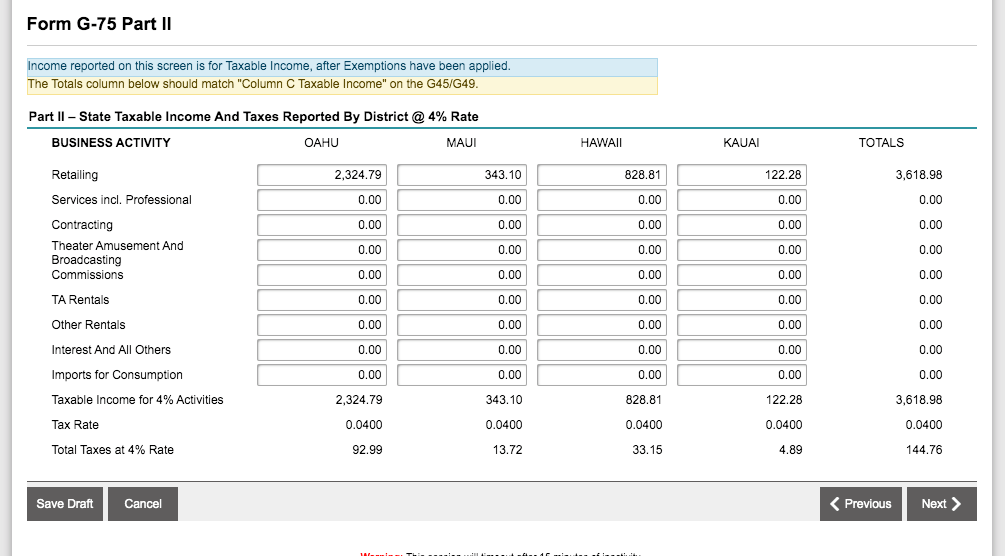 (Note, your tax platform might list Honolulu instead of Oahu.)
After you are sure that you have reported the correct type of sales made across all jurisdictions, click "Next" until you come to the exemptions page.
Step 8: Enter any exemptions that you may have.
You will next be shown the page where you can key in your exemptions. Be careful to enter them into the correct part of the return. You will see part 1-part IV displayed as shown below.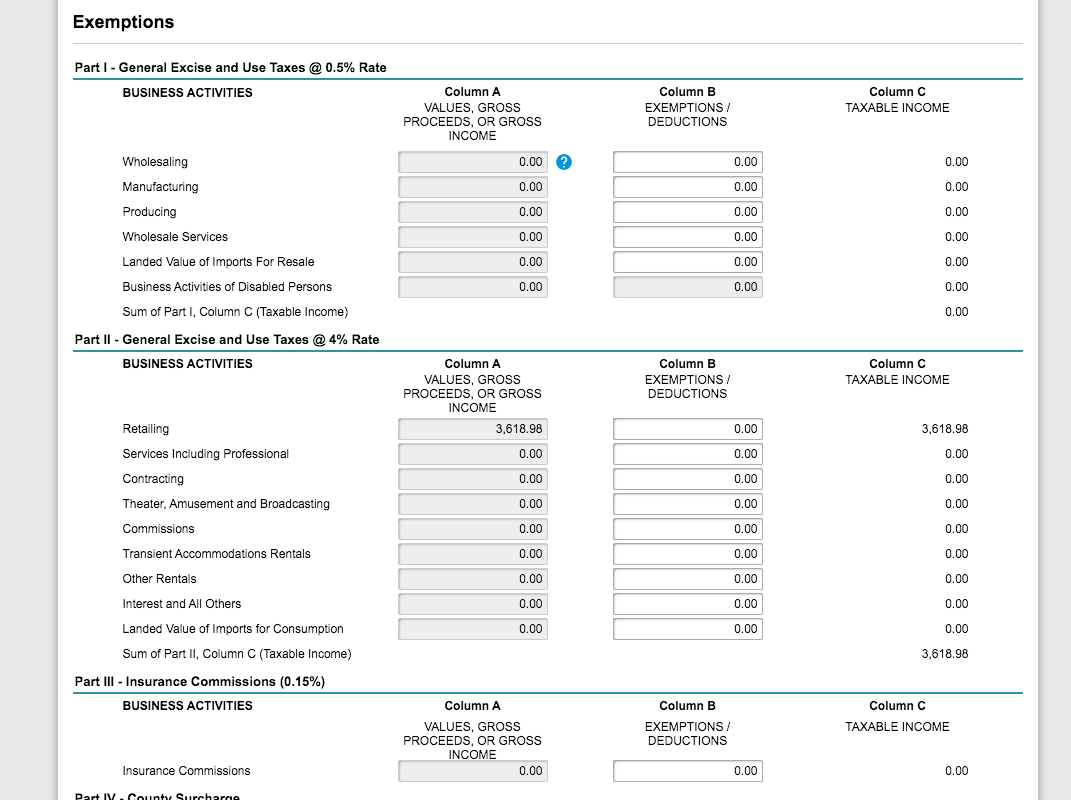 If you do not have any exemptions, you will be shown a summary page after moving on from here. If you do have exemptions, you will be shown a page that has you break the exemptions down by activity and category.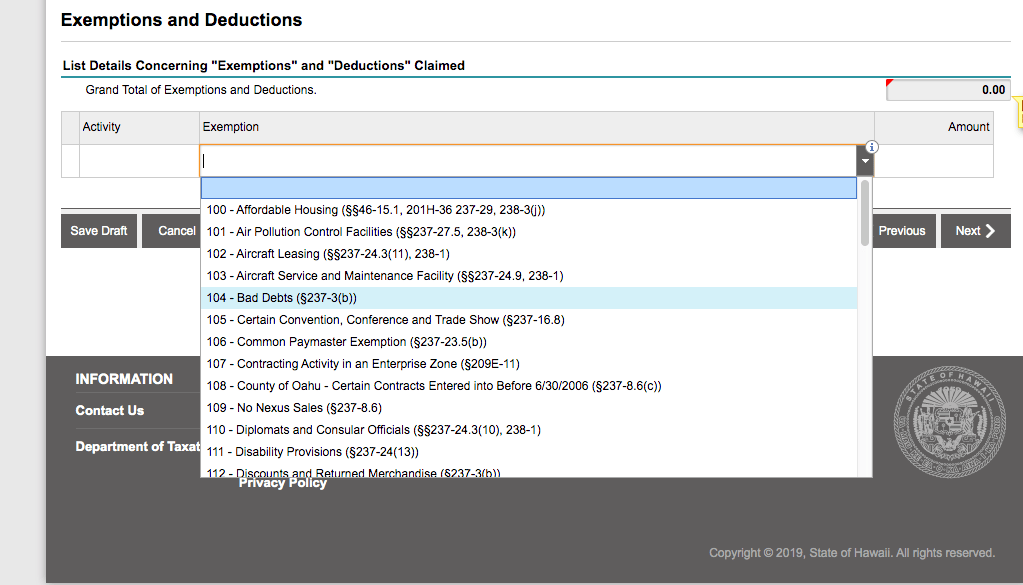 Again, be careful here that you select the correct activity from the drop-down menu. If you are a retailer, you will select #8 from the "Activity" drop-down menu.
After properly keying in your exemptions, select "Next".
Step 9: Review Summary and Submit
You are almost there! Review this summary page.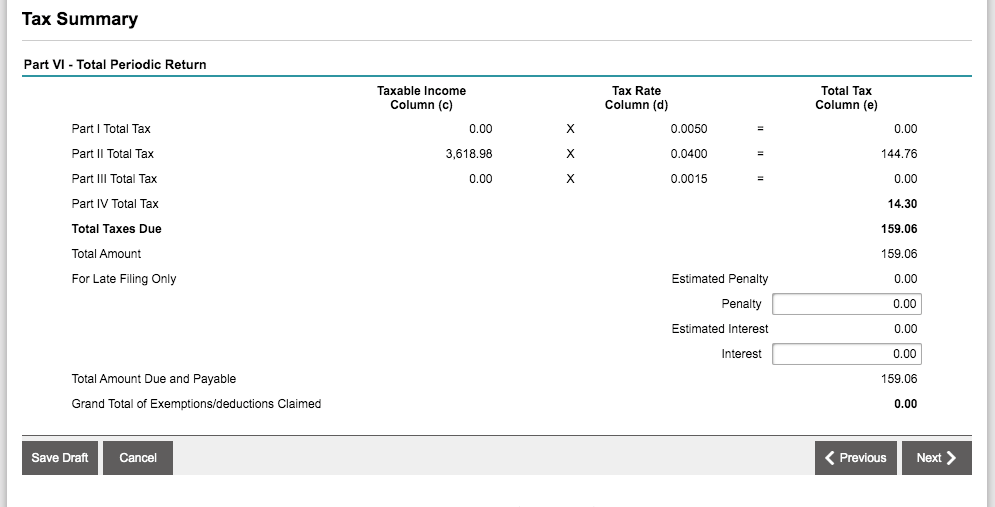 If you are filing timely, you do not need to worry about penalties and interest. If you are filing a past due return, you will need to account for any penalties and interest due to the state.
The next screen will display the final return summary. After checking that everything is correct, click "Next" again.
Now you will be given the option of paying the tax due with the return or submitting it without payment. If you wish to submit without payment, just select "No" and submit. If you wish to pay with your return, see below.
Congratulations! You are now finished with your Hawaii sales tax return.
How to Pay Hawaii's General Excise Tax
If you wish to pay your general excise tax due while submitting the filing, select "Yes" as displayed below. Carefully enter your bank information and select an appropriate payment date. Remember to pay the tax due at least by the due date of the return. Nobody likes late fees!
Once you are sure that everything is entered correctly, hit "Submit".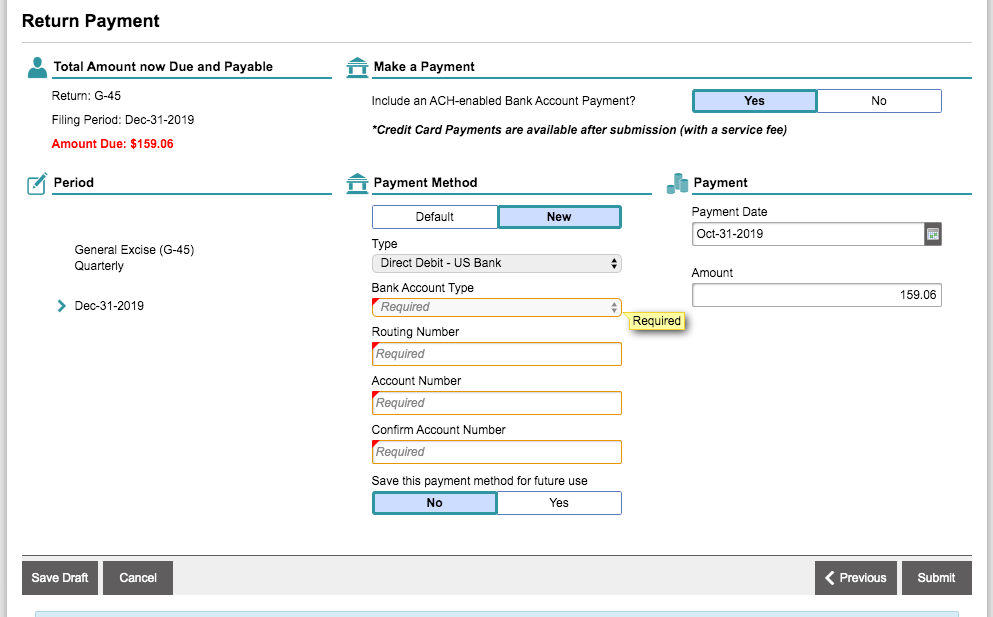 Things to Consider After Filing a General Excise Tax Return in Hawaii
If you forgot to print or save a copy of your sales tax return, no need to worry. You can easily go back into the period to view and/or print the return that you just filed. Go back to the dashboard and select the period that you wish to reprint. Now look under "I Want To". Select "File or view a form". Select "View or Amend Return". Select "Print Return". From here you may save or print your return for your records.
How to Get Help Filing a Hawaii General Excise Tax Return
If you are stuck or have questions, you can contact the state of Hawaii directly at (808) 587-4242 between 8:00 am and 4:00 pm Hawaii Standard Time. You can also find additional resources at the Hawaii Department of Revenue (DOR) website.
But if you are looking for a team of experts to handle your sales tax returns for you each month, you should check out our Done-for-You Sales Tax Service. Feel free to contact us if you're interested in becoming a client!
Receive Important Sales Tax Updates to Your Inbox!
Join our mailing list to receive free updates that could help protect your business from audit.
Disclaimer: Nothing on this page should be considered tax or legal advice. Information provided on this page is general in nature and is provided without warranty.