How to File and Pay Sales Tax in Wisconsin
Quick Answer: This blog gives instructions for how to file and pay sales tax in Wisconsin with the ST-12, a return commonly used by out-of-state sellers. Once a return is submitted a payment can be made electronically.
Do You Need to File a Wisconsin Sales Tax Return?
Once you have an active sales tax permit in Wisconsin, you will need to begin filing sales tax returns. Not sure if you need a permit in Wisconsin? No problem. Check out our blog, Do You Need to Get a Sales Tax Permit in Wisconsin?
Also, If you would rather ask someone else to handle your Wisconsin filings, our team at TaxValet can handle that for you with our Done-for-You Sales Tax Service. We specialize in eliminating the stress and hassle of sales tax.
How to Sign-in and File a Return on Wisconsin's Website
Note: The Wisconsin website will time out after 15 minutes of inactivity and all unsaved information will be lost. Don't forget to save your progress if you are walking away for even a moment.
Step 1: The first step in filing your Wisconsin sales tax return is to log into https://tap.revenue.wi.gov/mta/_/
If you do not have a username and password you will need to click on "Create Username" and then follow the instructions for signing up.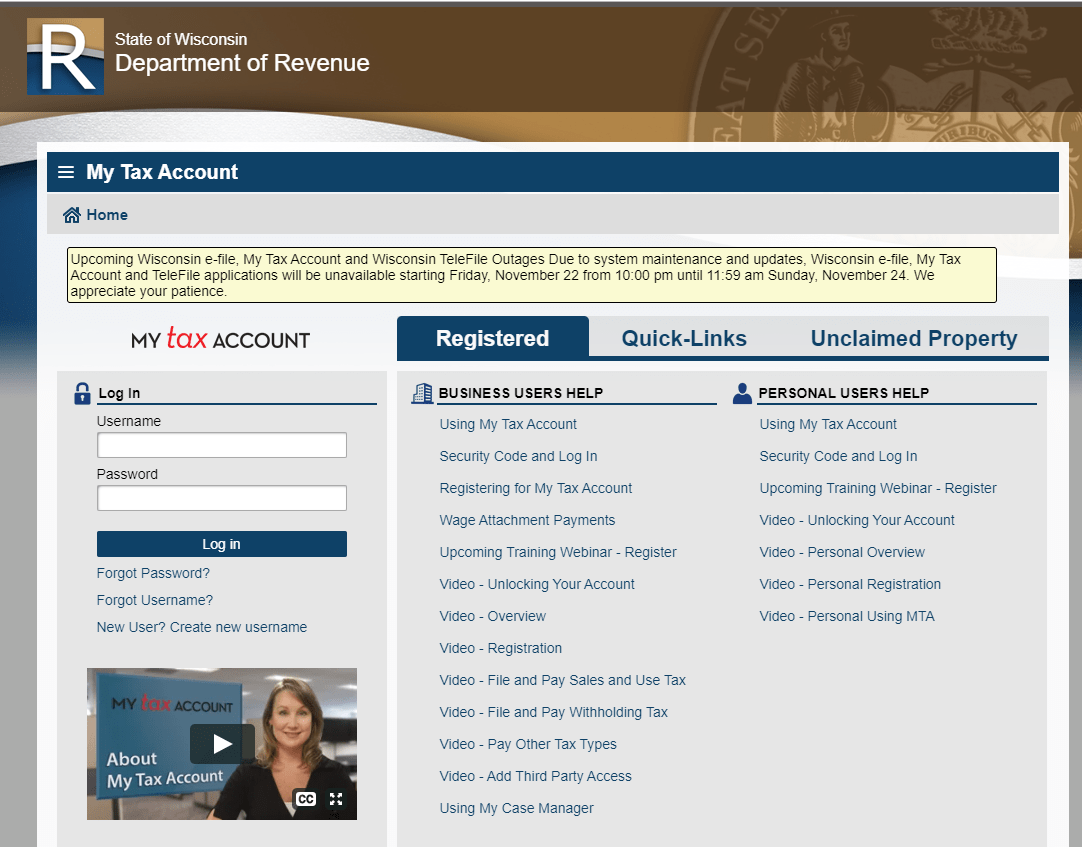 Step 2: You should now be on your homepage. Click on the account that you want to file returns for.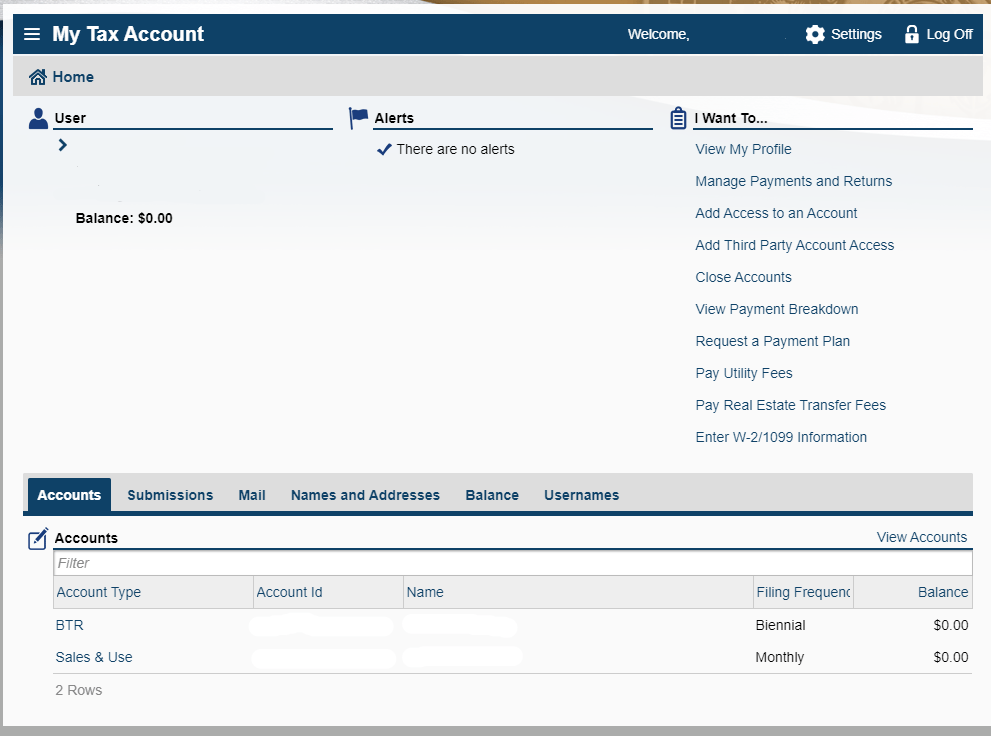 Step 3: Click on "File Return" for the period you want to file.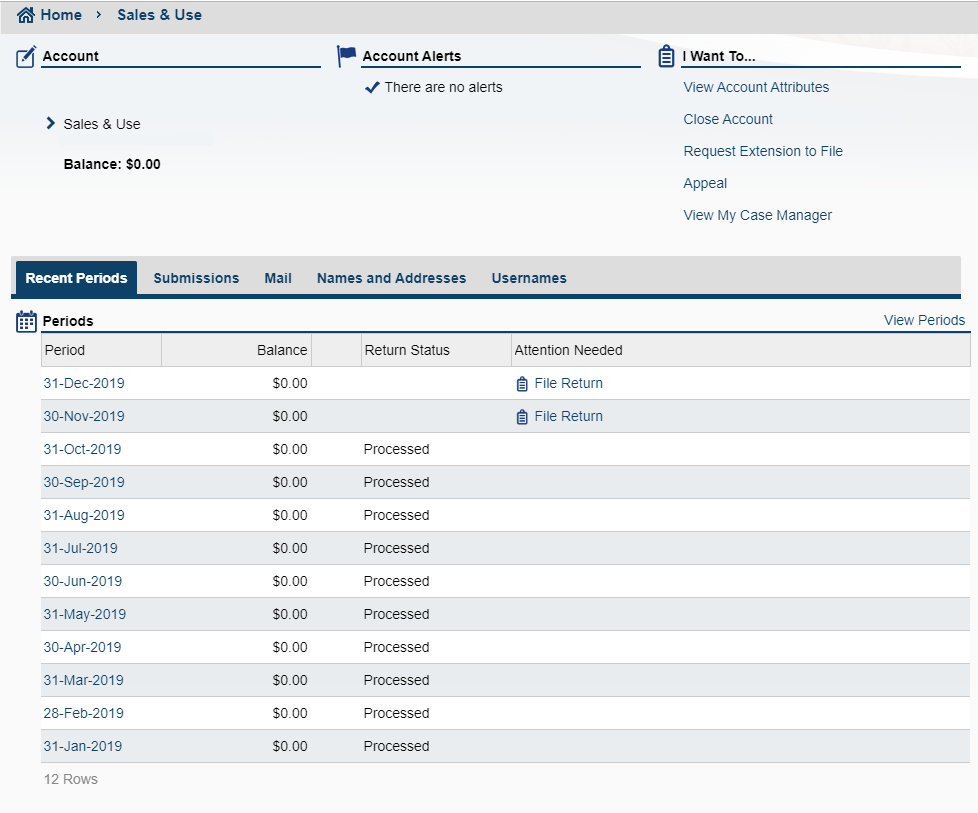 Step 4: Now comes the fun part. Click on "Step 1 – State" to begin entering amounts.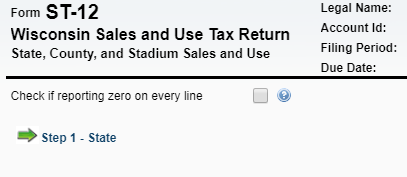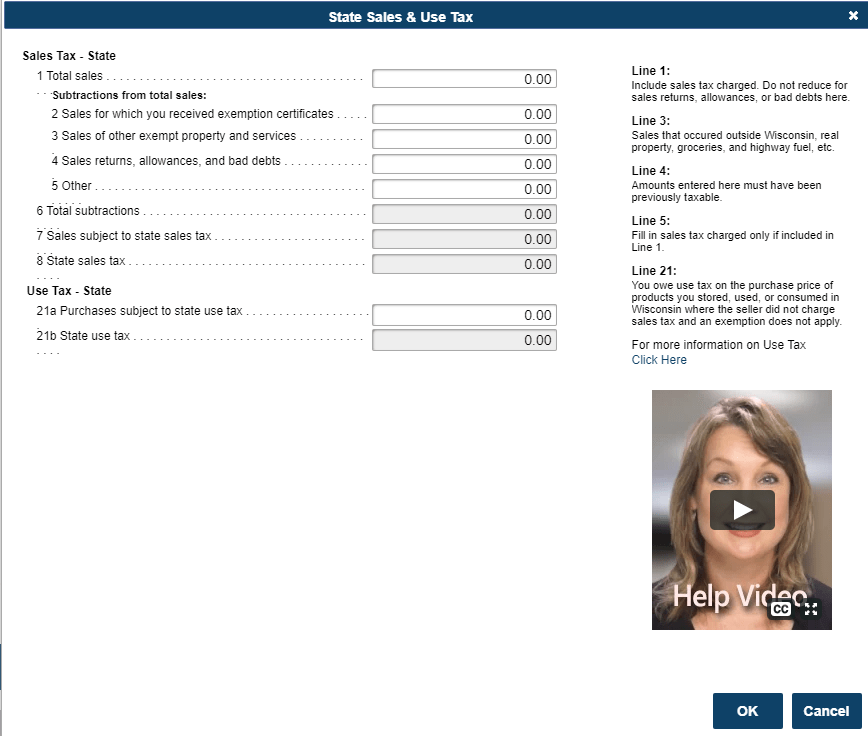 If you have any questions or are feeling lost there are line instructions and little help videos on each topic on the right side of the page. Once you have entered your data click "OK."
Step 5: Click on "Step 2-County."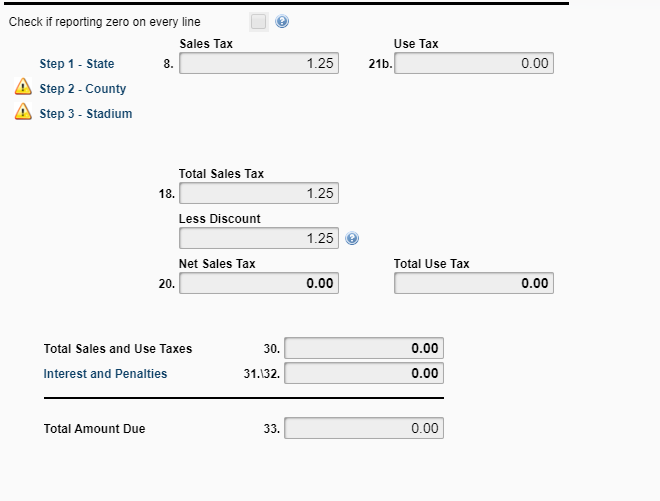 Step 6: Enter your counties and amounts subject to sales and use tax. Once complete, click "OK."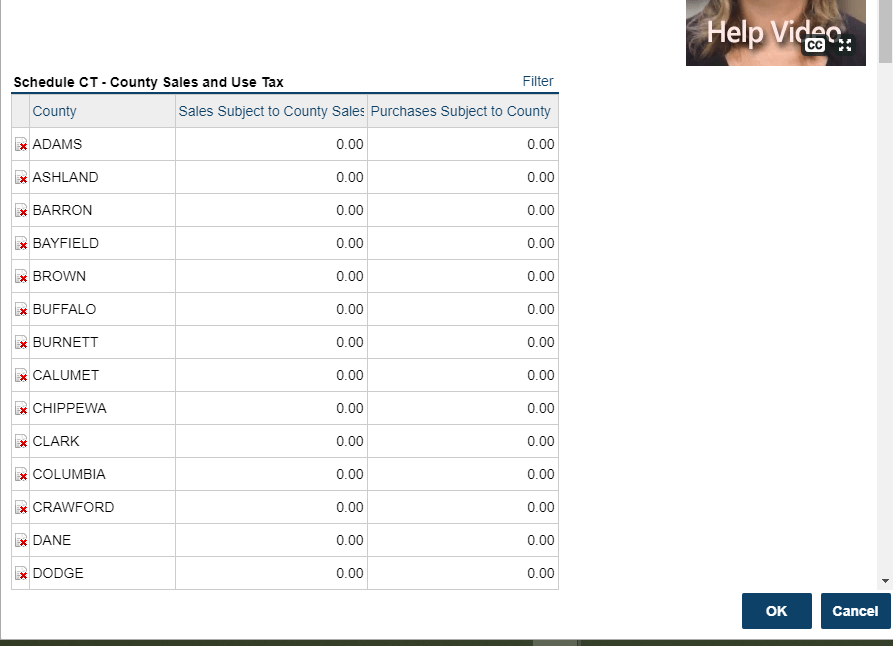 Step 7: Now you will repeat steps 5 & 6 for "Step 3- Stadium."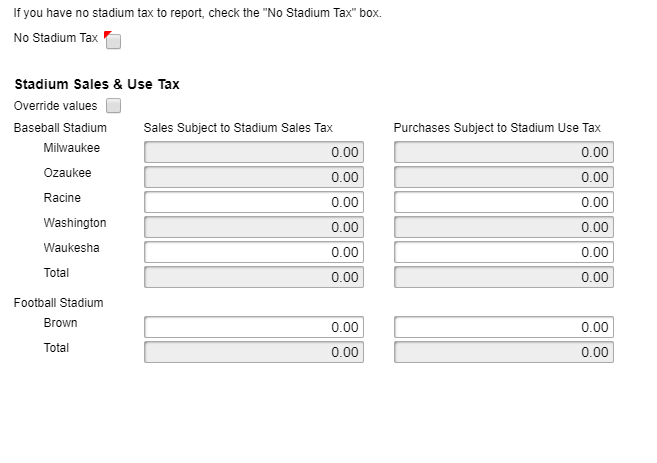 Step 8: You are now ready to review your return. Make sure you are satisfied with your sales figures and the amount due. If you are not, click on the State, County or Stadium sections and make any necessary corrections. If everything looks good, click "Next."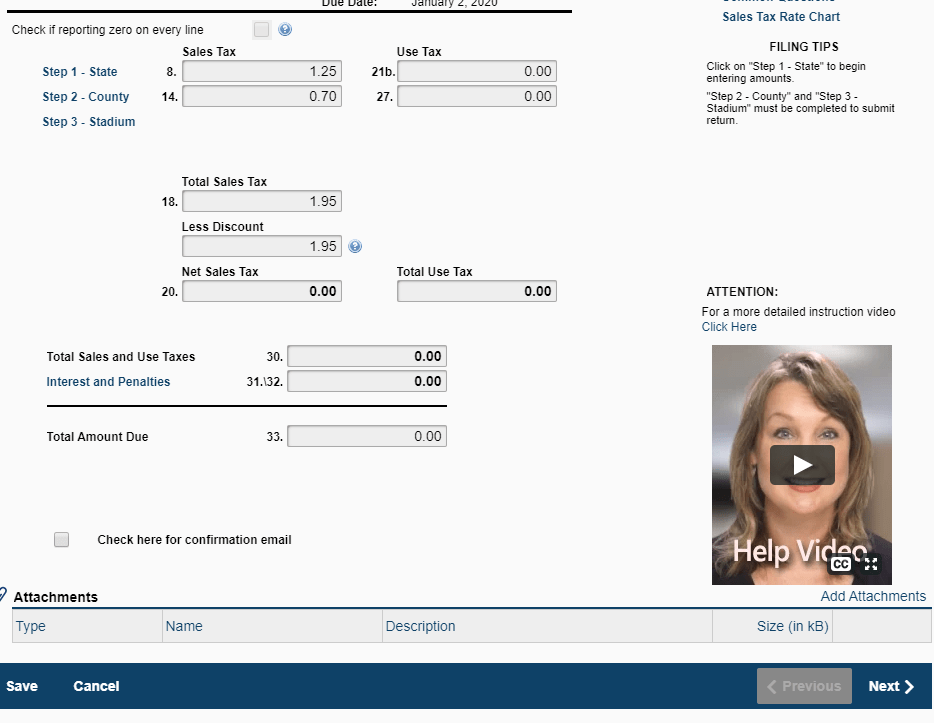 Hooray! You have now filed your return.
Also, make sure to save the confirmation number that comes up on the screen after submitting your return. We also recommend saving a copy of your return for your records.
Free State Audit Risk Guide
See which states pose the greatest risk to your business.
State-by-State Audit Risk Percentages
How to Pay Wisconsin's Sales Tax
You can make a sales tax payment from your homepage. Select the account you want to make a payment to (sales & use in this case). Then select the payment period.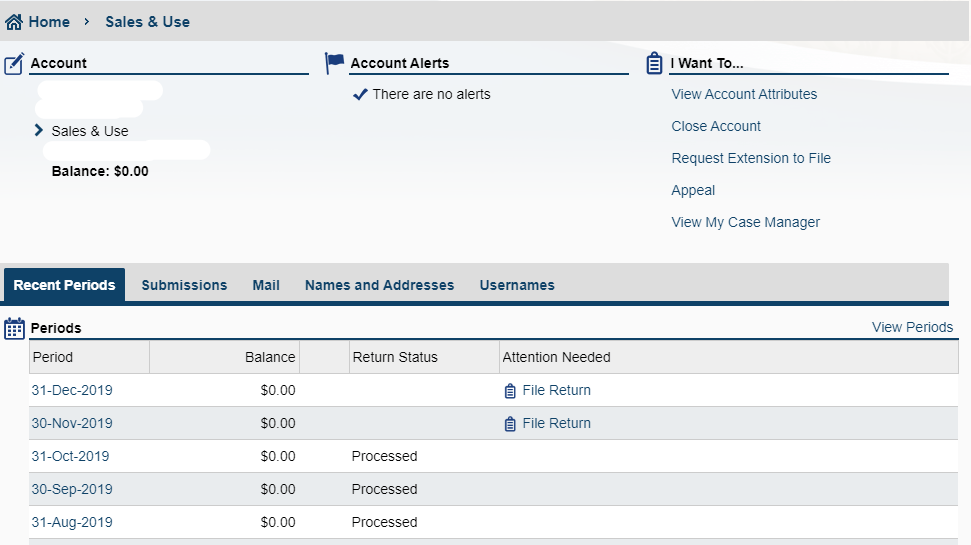 Under "I Want to" select "Make a Payment." Choose your payment type and enter your payment information. Once you have submitted your payment, don't forget to print or save your confirmation number.
Things to Consider After Filing a Sales Tax Return in Wisconsin
If you forgot to print or save your return, you still can! To print or save your return go back to your homepage and click the "Submissions" tab. In the lower right-hand corner of the screen, you will see your return listed. Click on the listing for the return you are wanting to print or save. Then, click "Print Submission."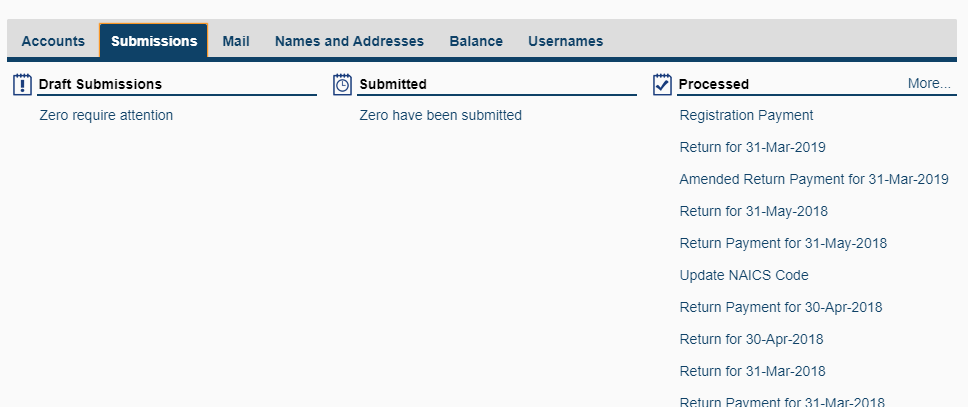 How to Get Help Filing a Wisconsin Sales Tax Return
Lastly, here is the contact information for the state if case you end up stuck or have any questions come up. You can contact the state of Wisconsin directly by phone at (608) 267-1030. Don't forget that you can also read the instructions or watch the instructional videos on the side of the return.
If instead, you are looking for a team of experts to handle your sales tax returns for you each month, you should check out our Done-for-You Sales Tax Service. Feel free to contact us if you're interested in becoming a client!
Related Blog Content
Do You Need to Get a Sales Tax Permit in Wisconsin?
Disclaimer: Our attorney wanted you to know that no financial, tax, legal advice or opinion is given through this post. All information provided is general in nature and may not apply to your specific situation and is intended for informational and educational purposes only. Information is provided "as is" and without warranty.
Receive Important Sales Tax Updates to Your Inbox!
Join our mailing list to receive free updates that could help protect your business from audit.
Disclaimer: Nothing on this page should be considered tax or legal advice. Information provided on this page is general in nature and is provided without warranty.