Quick Answer: Washington offers a few different types of sales tax returns. This blog gives instructions for filing and paying sales tax in Washington with the Excise Tax Return, a return commonly used by out-of-state sellers.
Do You Need to File a Washington Sales Tax Return?
Once you have an active sales tax permit in Washington, you will need to begin filing sales tax returns. Not sure if you need a permit in Washington? No problem. Check out our blog, Do You Need to Get a Sales Tax Permit in Washington?
Also, If you would rather ask someone else to handle your Washington filings, our team at TaxValet can handle that for you with our Done-for-You Sales Tax Service. We specialize in eliminating the stress and hassle of sales tax.
How to Sign-in and File a Return on Washington's Website
The first step in filing your Washington sales tax return is to log into your account at https://secure.dor.wa.gov/home/Login.
If you do not have a username and password yet you will need to click on "Sign Up" and then follow the instructions for signing up. You may also reference this blog for more information, How to Register for a Sales Tax Permit in Washington.
Once you click on "Get started," you will land on your home page. It should look something like this page.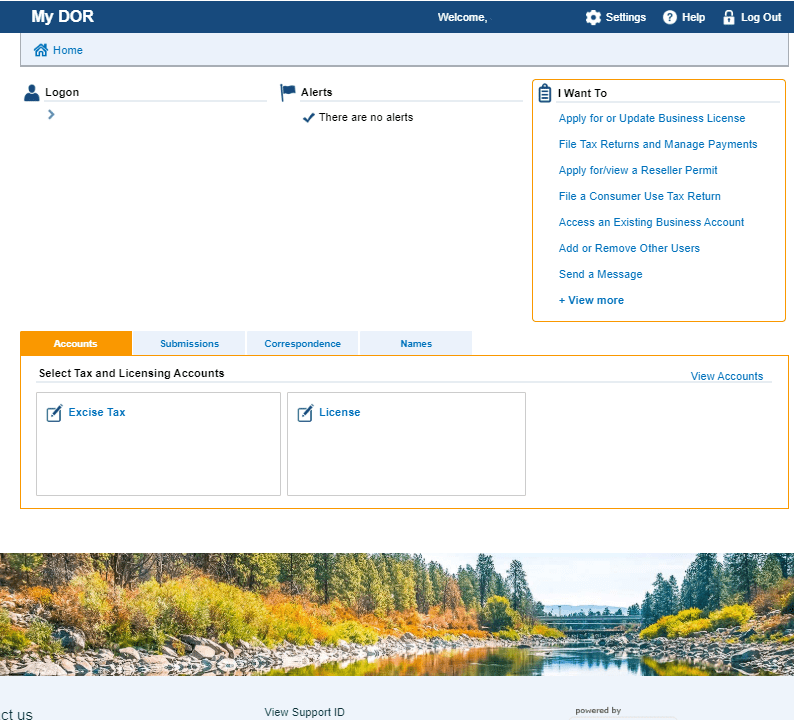 Washington calls sales tax "Excise Tax." So don't be confused by the different terminology. To get started, you will need to select the Excise Tax account.
Step 1: Select the period you want to file.​

Step 2: Select the tax classifications you need. Once complete, select "Next."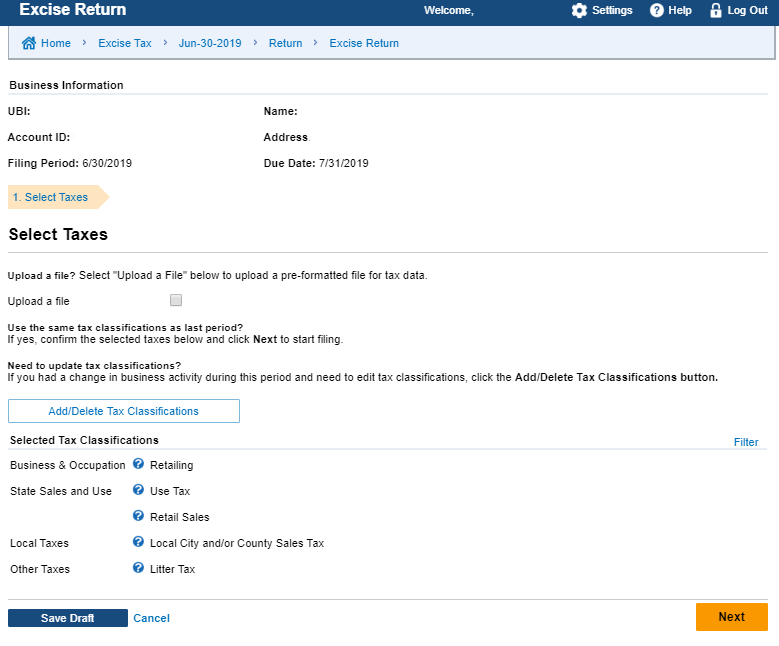 Step 3: We are staring with the Business & Occupation tax. First, enter your gross amount and deductions (if you have any). Once complete, click "Next."
Step 4: Then we complete the form for the "State Sales and Use" portion. Enter the gross amount of your sales as well as any deductions (your gross sales should be the same as what you entered for the Business & Occupation tax page). If you have marketplace sales, you would enter those as deductions.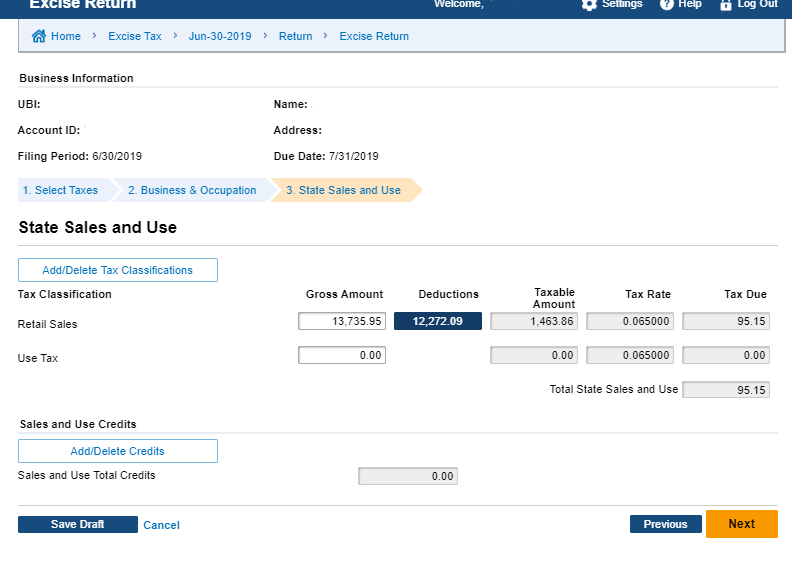 Step 5: Enter your Local Sales. You can add locations by clicking the "Add Locations" button. Once complete, click "Next."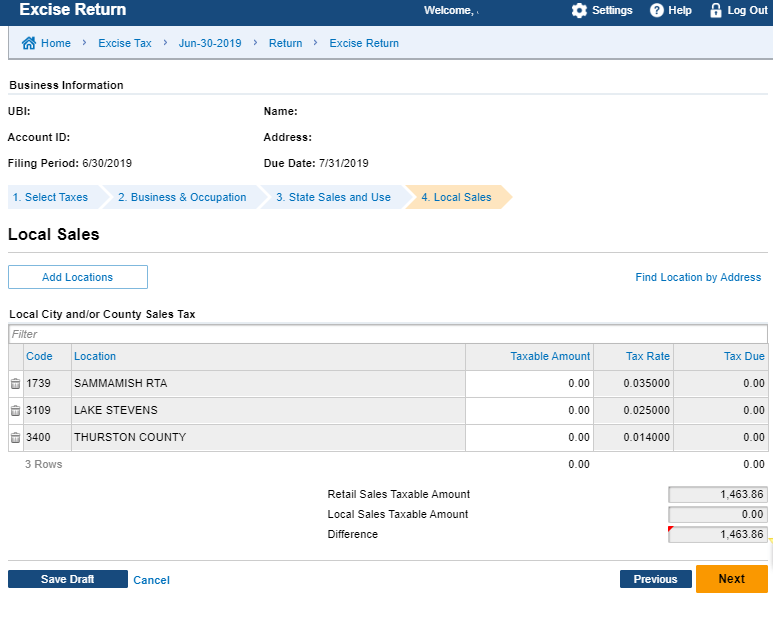 Step 6: If you selected the tax classification, "Other Taxes," you will address those next. One example of a tax in this category is "Litter Tax."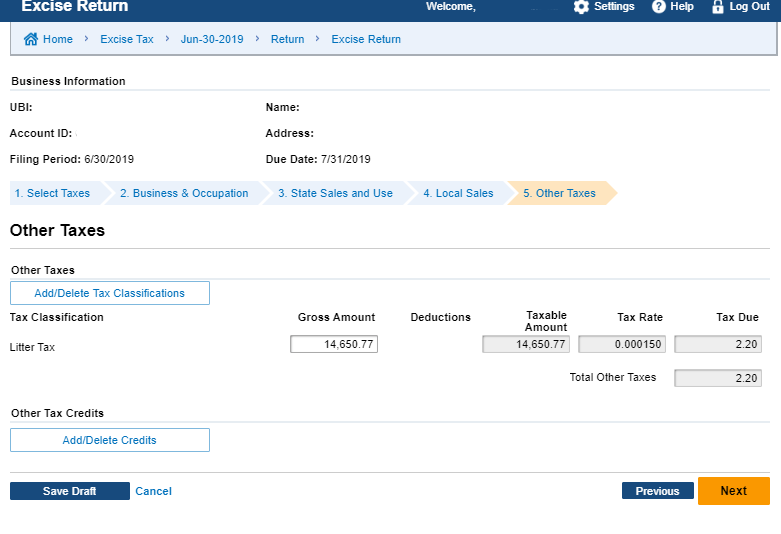 Step 7: It is time for you to review your return. If all looks correct, click "Next." If you need to make any corrections, chose "Previous" to return to the data entry forms.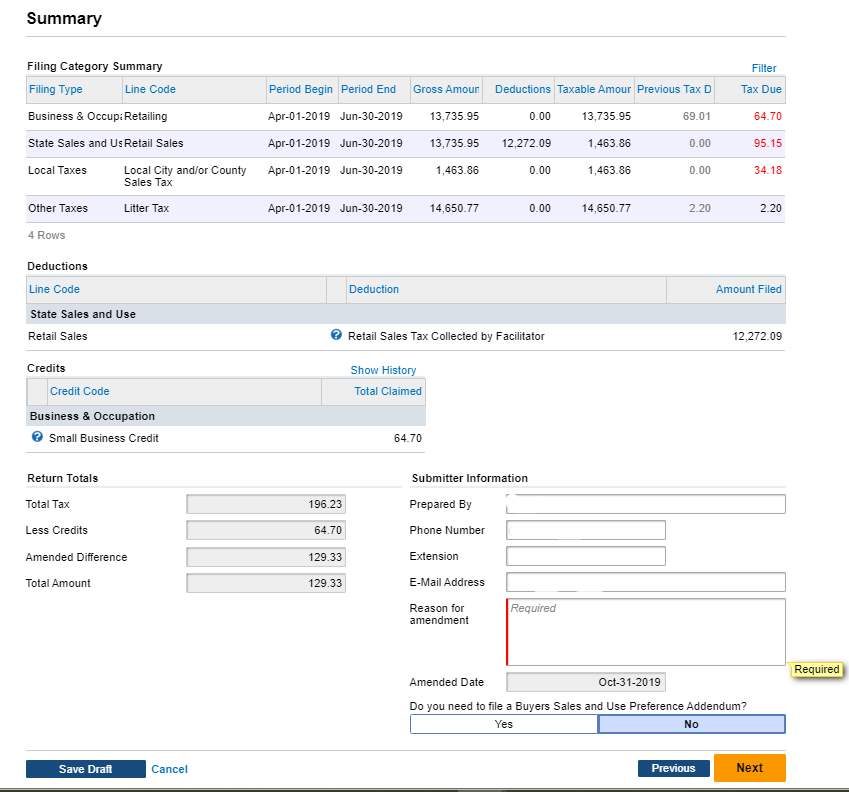 Hooray! You did it! You just finished your Washington Excise Tax return! You may choose to submit without paying if you would like. For this blog, we are going to keep going and show you how to pay at the same time.
One last thing, don't forget to save and/or print your confirmation page for your records.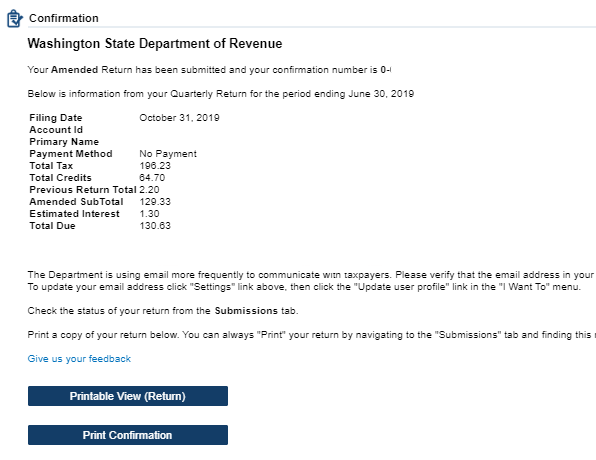 How to Pay Washington's Sales Tax
As you can see there are a few choices for payment, including credit card payment and E-check. In this example, we are using the ACH Debit/E-check option.
Once you have selected your payment method, click "Next."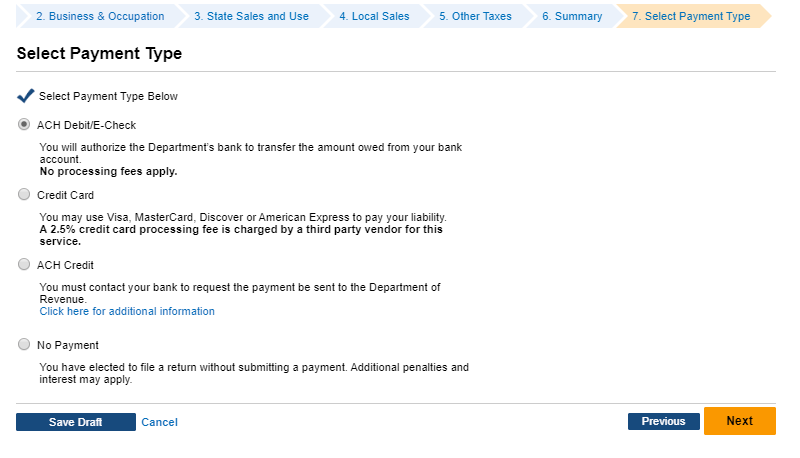 You will now be prompted to enter your bank information if not previously saved. You will also need to confirm the amount to be paid.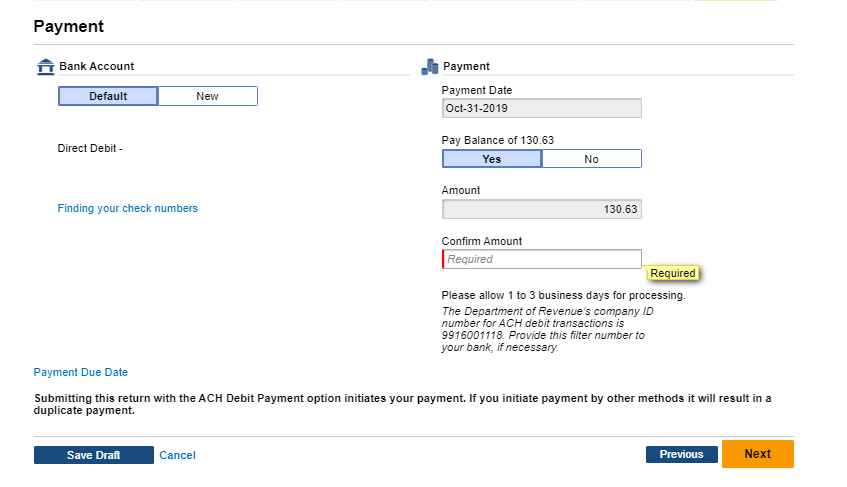 ​
Congratulations! You have now filed and paid your Washington Excise Tax!
Things to Consider After Filing a Sales Tax Return in Washington
If you forgot to print or save a copy of your sales tax return, you still can!
Click on the "Submissions" tab on the homepage and click the return or payment you want to copy.
How to Get Help Filing a Washington Sales Tax Return
Lastly, here is the contact information for the state if case you end up needing help:
Customer Support: 360-705-6705
Electronic Filing: 360-705-6709
But if you are looking for a team of experts to handle your sales tax returns for you each month, you should check out our Done-for-You Sales Tax Service. Feel free to contact us if you're interested in becoming a client!