Quick Answer: This blog provides instructions on how to file and pay sales tax in Michigan with form 5080 using the Michigan Treasury Online (MTO) website. This form is used to file sales, use and withholding taxes for monthly and quarterly filers. If you are an annual filer, you will need to use form 5081. There are also other forms that you can use to file use tax only. Please reference Michigan's sales and use tax form webpage for more information.
Do You Need to File a Michigan Sales Tax Return?
Once you have an active sales tax permit in Michigan you will need to begin filing sales tax returns. Not sure if you need a permit in Michigan? No problem. Check out our blog, Do You Need to Get a Sales Tax Permit in Michigan?
Also, If you would rather ask someone else to handle your Michigan filings, our team at TaxValet can handle that for you with our Done-for-You Sales Tax Service. We specialize in eliminating the stress and hassle of sales tax.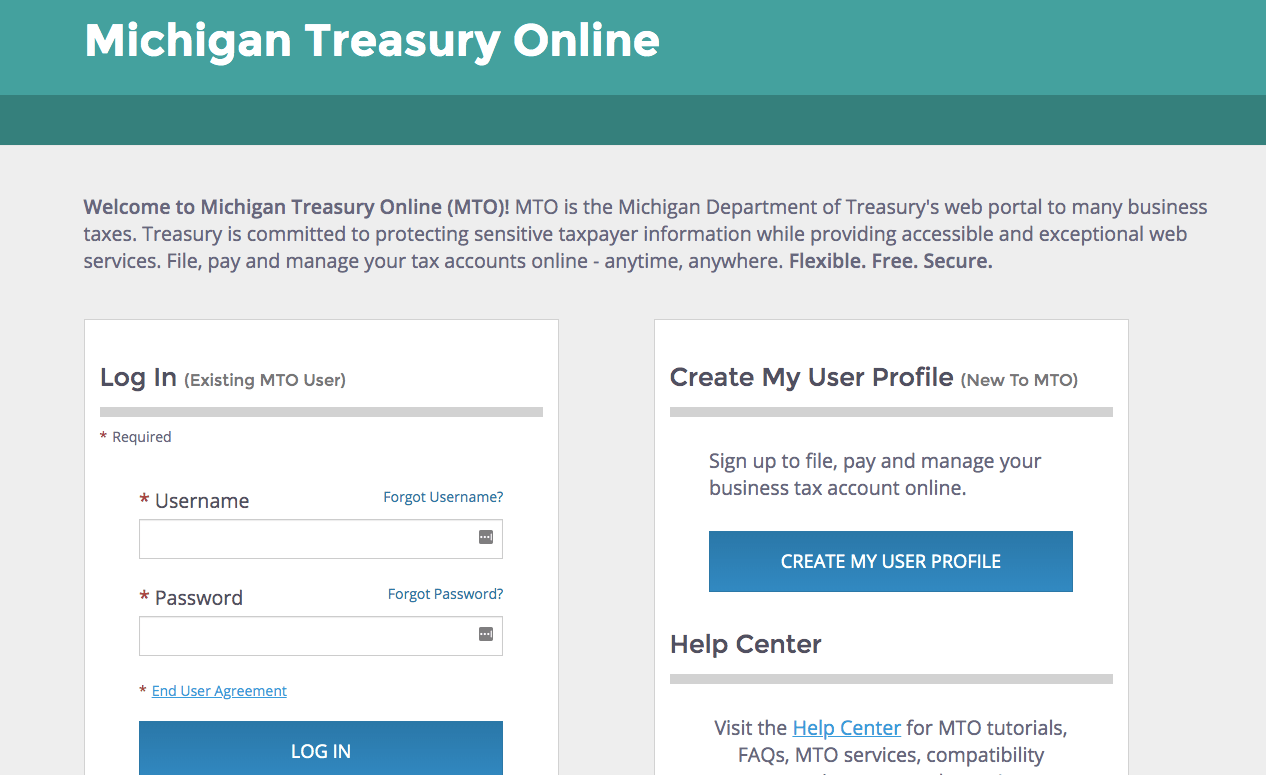 Step 2: Sign in with your username and password.
If you do not have a username and password, then your first step is getting that all set up. These login credentials are generally created when you submit registration paperwork for a sales tax permit. If you are not interested in doing the work of getting the permit or a state login yourself, TaxValet can handle that for you with our Sales Tax Permit Registration Service.
Step 3: You will be directed to the dashboard for the state.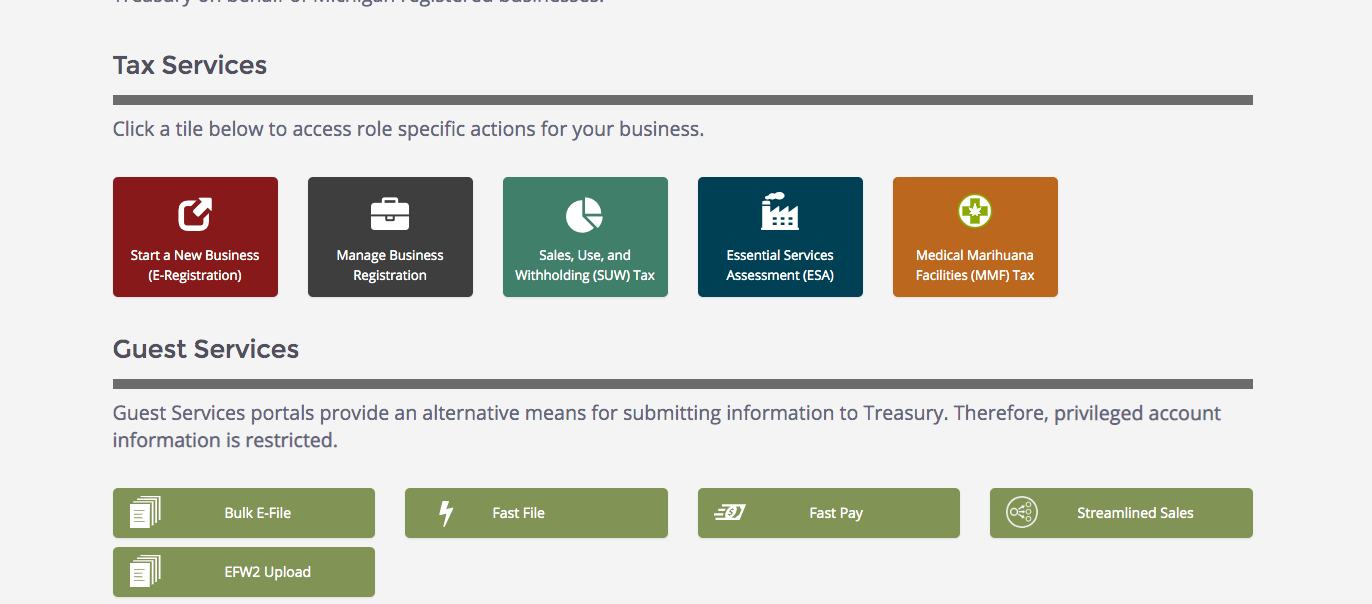 Think of this page as your home base. It should always be a place of reference for you.
Take a few minutes here to explore this page and all of the different links that are available. After a few seconds of looking around, you will probably see the next place that we need to go.
Click on the middle, green box that says "Sales, Use, and Withholding (SUW) Tax". You will now see a box with your business name at the top.

Click your business name to continue. Now you will see a page that has two headings at the top. You will see "SUW Summary" and "SUW Actions." You want to look under "SUW Actions."
Select "File and Pay a Tax Return" under the "File & Pay Options" tab.
Next, you will see the periods available to file.

Select "File Return" that is next to the period that you need to file.
A prompt will emerge that may ask you to clarify which taxes you need to file. If you are just filing a sales tax return, select that option. If you are filing both a sales and use tax return, select both options.
Step 4: Key in Sales Data
It has taken a little time to navigate to this page, but this is where you will enter in all of your sales data. As you can see, it is not very complicated or lengthy. It has a few quirks, but other than that the Michigan sales and use tax return is pretty simple. Enjoy it!
You are now faced with a screen that looks something like this: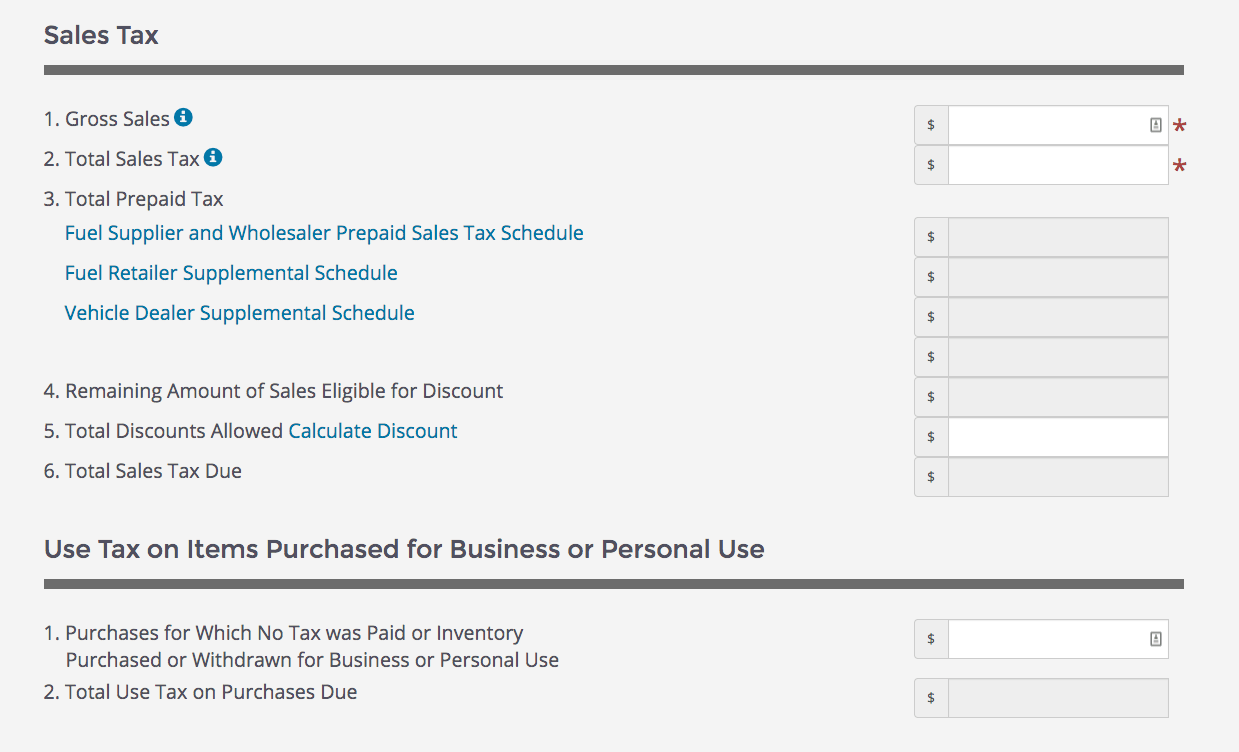 Numbers 1 through 6 are related to sales tax specifically. Depending on if you need to file use tax, you may or may not see the second use tax category displayed in the image above.
Let's start by entering in your gross sales at the top of the page. This number is total sales including shipping and handling. You can hover your mouse over the blue "i" to see exactly what Michigan wants you to include on this line.
Now we need to enter in total sales tax. Notice that this is not deductions or taxable sales. This is actually the sales tax due. This should be the gross sales from box 1, minus any allowable deductions, multiplied by 6% (0.06). Again, you can hover of the blue "i" to see exactly what Michigan wants you to include on this line.
If line 3 applies to you, select the related schedule and complete it. You can hover over each of the links in order to see if they apply to you.
Now you need to complete line 5. This line relates to a discount that Michigan gives businesses for filing and paying their sales and use tax returns on-time. To calculate this discount, select "Calculate Discount".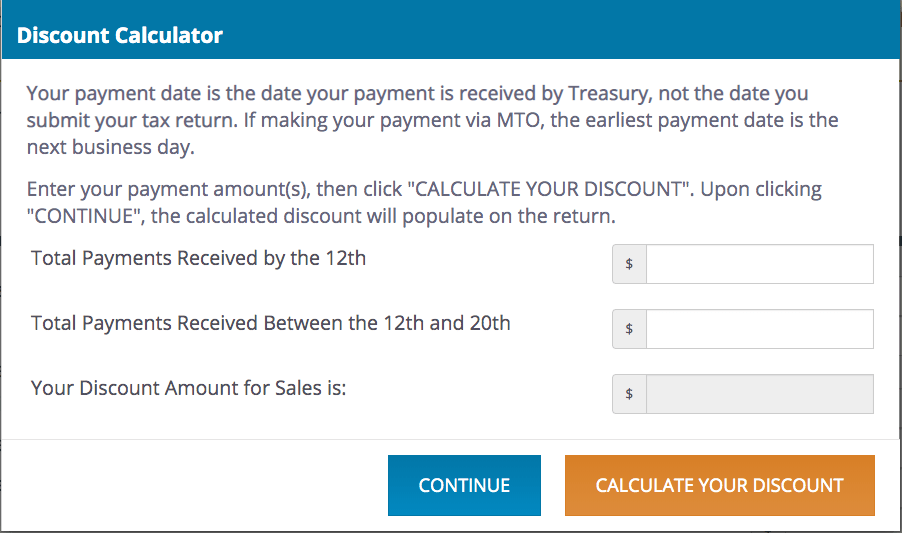 You will now see this prompt appear in the middle of your screen. Here you need to enter the tax payment amount and the date on which you will remit that payment. For example, if you plan to remit your sales tax payment on the 14th of the month, you should put the amount of the payment in the middle box "Total Payments Received Between the 12th and 20th". Now you must press "Calculate Your Discount" in order to properly calculate and apply the discount to your return. You should see the bottom line populate with the discount amount. Now press "Continue."
If you have any use tax to pay, appropriately fill out that box with the dollar amount of purchases you made on which no sales tax was paid. Line 2 will auto-populate with the correct tax amount.
Now let's take a look at the summary page.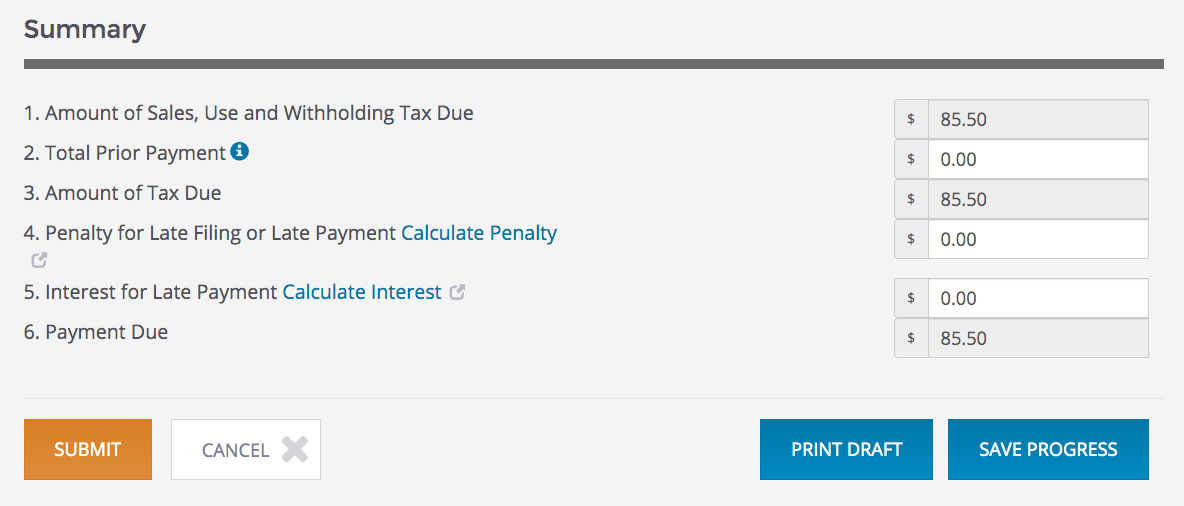 All of the tax due from above will automatically pull-down into line 1 of the summary. If you had any prior payments or overpayments from a previous return that you wish to apply to the payment of this return, you will need to enter that amount in line 2 of the summary. Additionally, if you are filing this return late, you will need to calculate penalties and interest. If you click the links to calculate these amounts, you will see a screen that looks like the one below.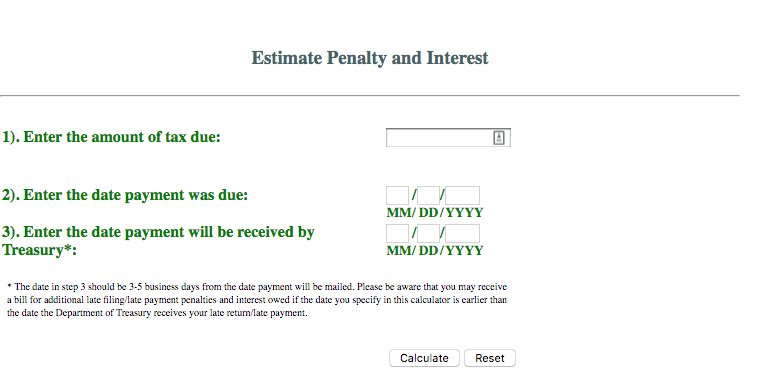 Michigan provides you with a very convenient way to calculate the penalty and interest that you owe. Once you are sure that you have entered the appropriate data in the summary page, look over the entire return one last time. This is always a good idea, just to be sure that you have not made an entry error. At this point you are ready to press the "Submit" button.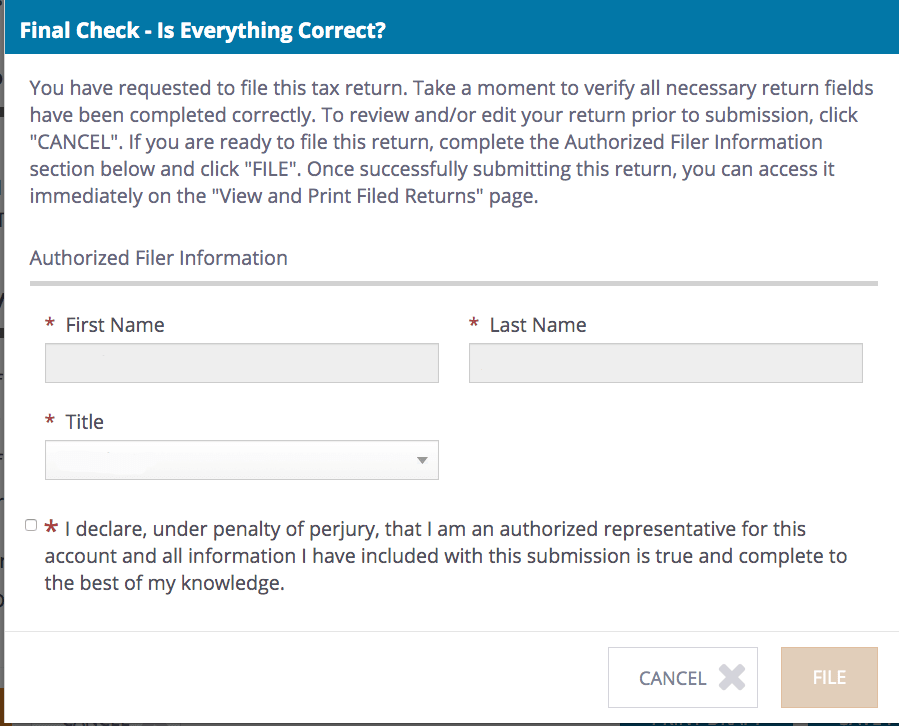 You will now see a page that will ask you verify your name and your title with the company, You must check the box at the bottom and then press "File" to officially submit your return.
After you press "File", that's it! You have officially filed your Michigan sales tax return. That wasn't so bad, was it?
How to Pay Michigan Sales Tax
If you wish to pay your sales tax due while submitting the sales tax return, select that option after filing your return. You can also go back to the dashboard and select "Make a Payment" and then "Pay Now." You will see a screen that looks like the one below.
This screen can be a bit confusing at first. If you look at the top portion just select/make sure that the payment type, payment month, and payment year are correct.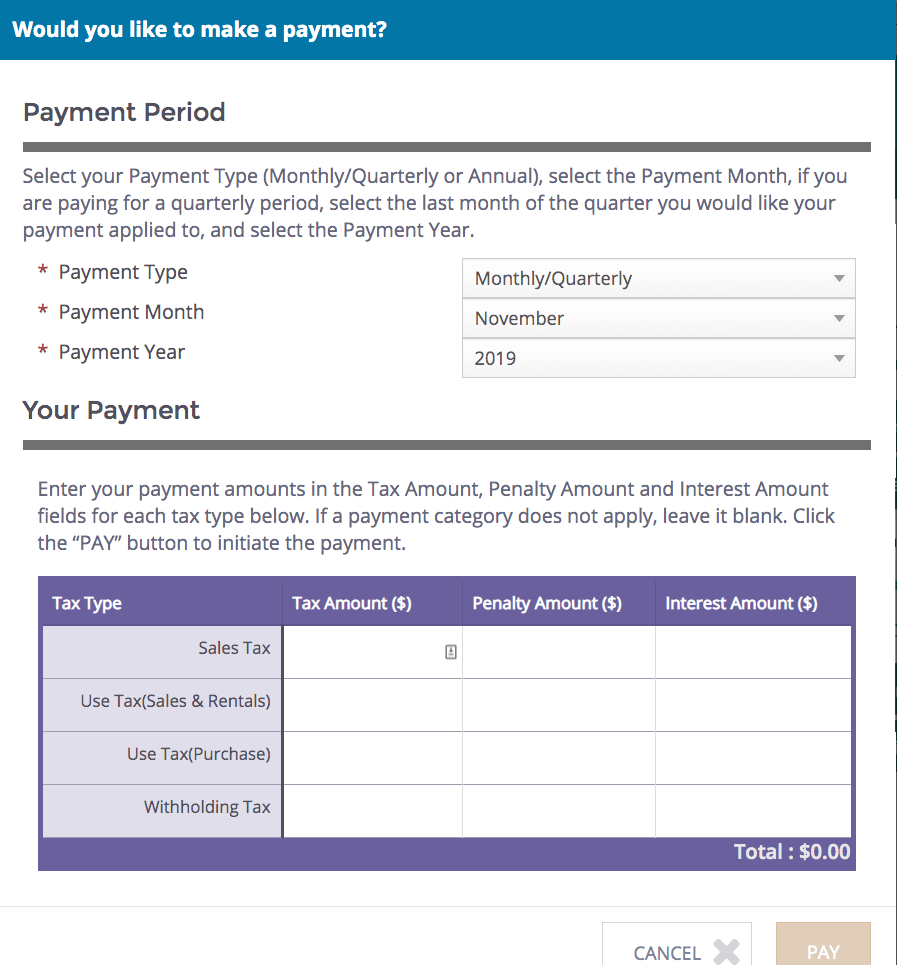 For the bottom portion of this screen, you will need to first enter the amount of the sales tax payment in the most top-left box. You can see that is where the "Tax Amount" column and "Sales Tax" row intersect. If you had any penalties and interest, you will need to key those amounts in on the same row and in the corresponding column. If you had any use tax, you will need to put that payment on separate lines.
After you are sure that all information is correct, press "Pay".
Things to Consider After Filing a Sales Tax Return in Michigan
If you forgot to print or save a copy of your sales tax return, Michigan provides an easy solution. You can go back into the period to view and/or print the return that you just filed.
Go back to the dashboard and select the "Sales, Use, and Withholding (SUW) Tax" box. Now select your business again. Off to the right under the "File & Pay Options", you will see a link that says "View and Print Filed Returns". Select that link. Now, select the confirmation number related to the return that you wish to file. You can now print and/or save this return for your records.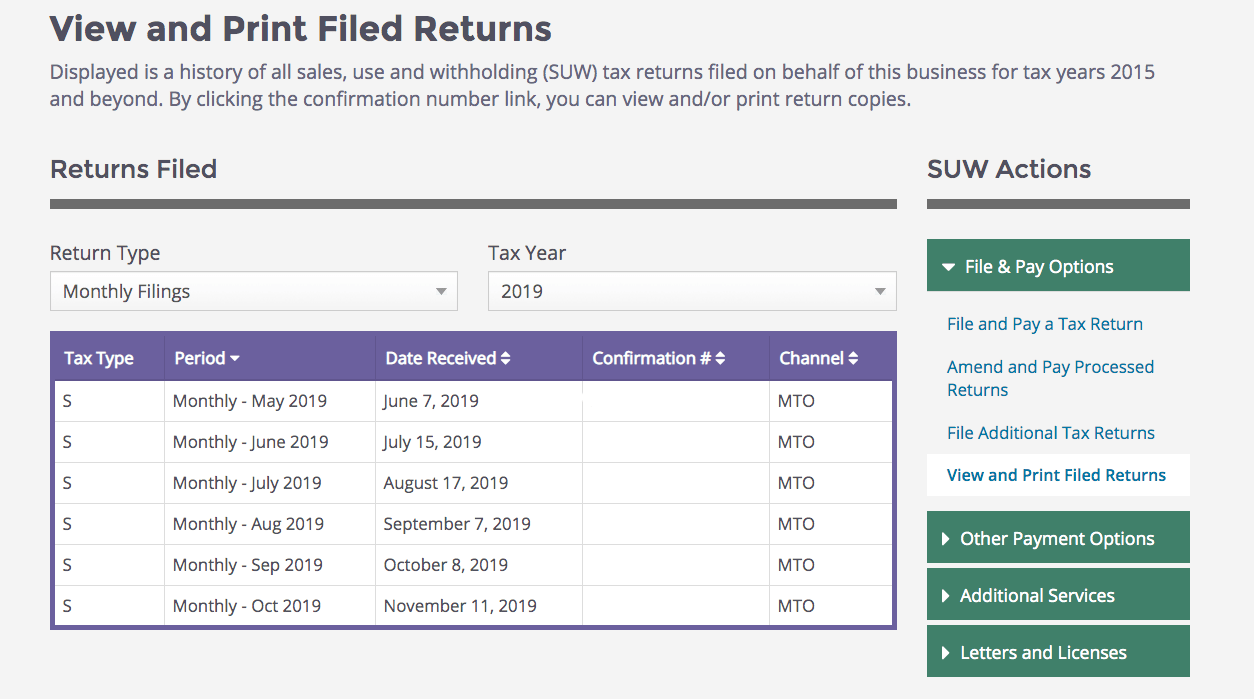 How to Get Help Filing a Michigan Sales Tax Return
If you are stuck or have questions, you can contact the state of Michigan directly at (517) 636-6925 between 9:00 a.m. and 4:00 p.m. EST. You can also find additional resources at the Michigan Department of Revenue (DOR) website.
Instead, if you are looking for a team of experts to handle your sales tax returns for you each month, you should check out our Done-for-You Sales Tax Service. Feel free to contact us if you're interested in becoming a client!