Quick Answer: This blog provides instructions on how to file and pay sales tax in Kentucky using the Kentucky OneStop Portal, the primary way to file and pay sales tax with the state.
Do You Need to File a Kentucky Sales Tax Return?
Once you have an active sales tax permit in Kentucky you will need to begin filing sales tax returns. Not sure if you need a permit in Kentucky? No problem. Check out our blog, Do You Need to Get a Sales Tax Permit in Kentucky?
Also, If you would rather ask someone else to handle your Kentucky filings, our team at TaxValet can handle that for you with our Done-for-You Sales Tax Service. We specialize in eliminating the stress and hassle of sales tax.
How to Sign-in and File a Return on Kentucky's Website
Let's start with simple step-by-step instructions for logging on to the website in order to file and pay your sales tax return in Kentucky.
Step 1: Follow this link to come to this screen: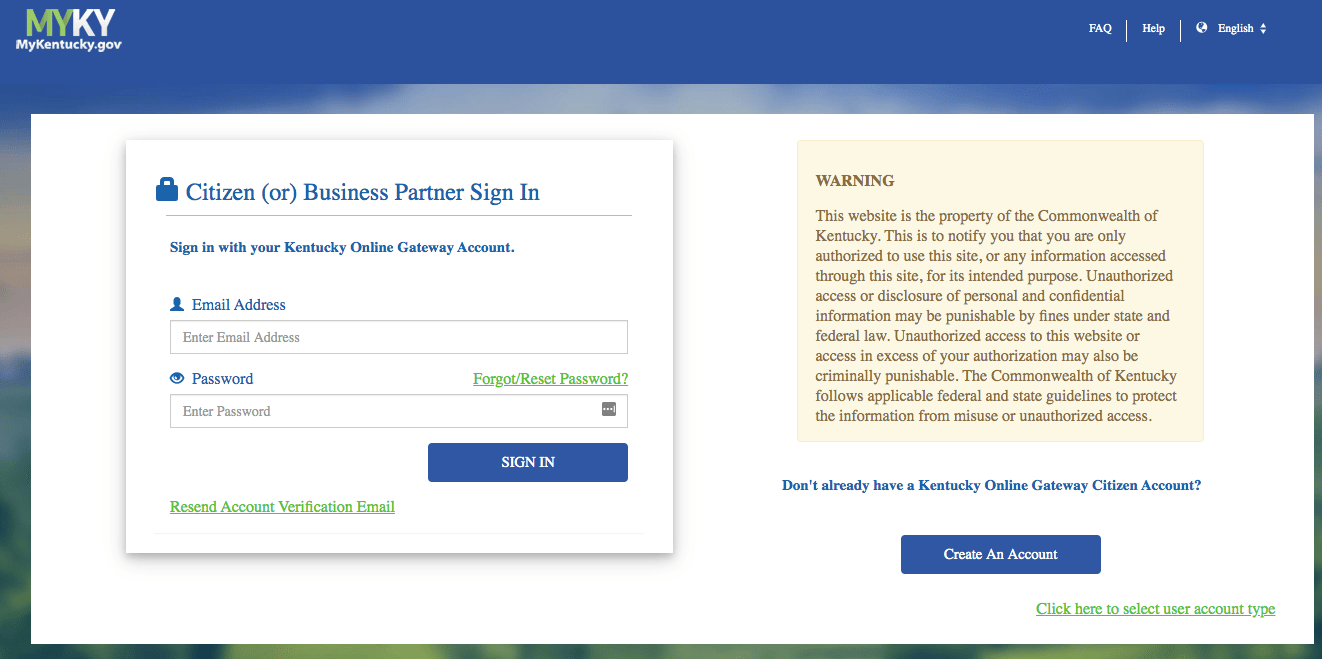 Step 2: Sign in with your username (email address) and password.
If you do not have a username and password, then your first step is getting that all setup. These login credentials are generally created when you submit registration paperwork for a sales tax permit.
Step 3: You will be directed to the dashboard for the state.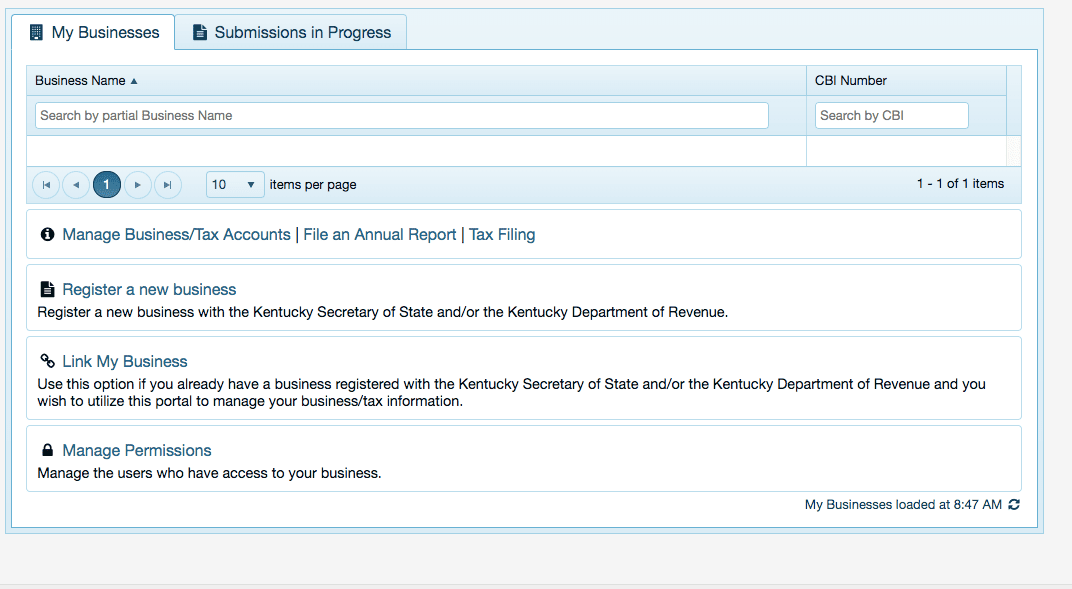 This page can seem confusing, but the only thing that you need to do here is to select your business. Your business name should be a clickable link near the top of the page.
Now you should see a page with your sales and use tax account listed. Before you move forward, it is a good idea to explore these two pages a little. You will find a "Back to Dashboard" link in the upper right corner of the second page that will allow you to navigate between them.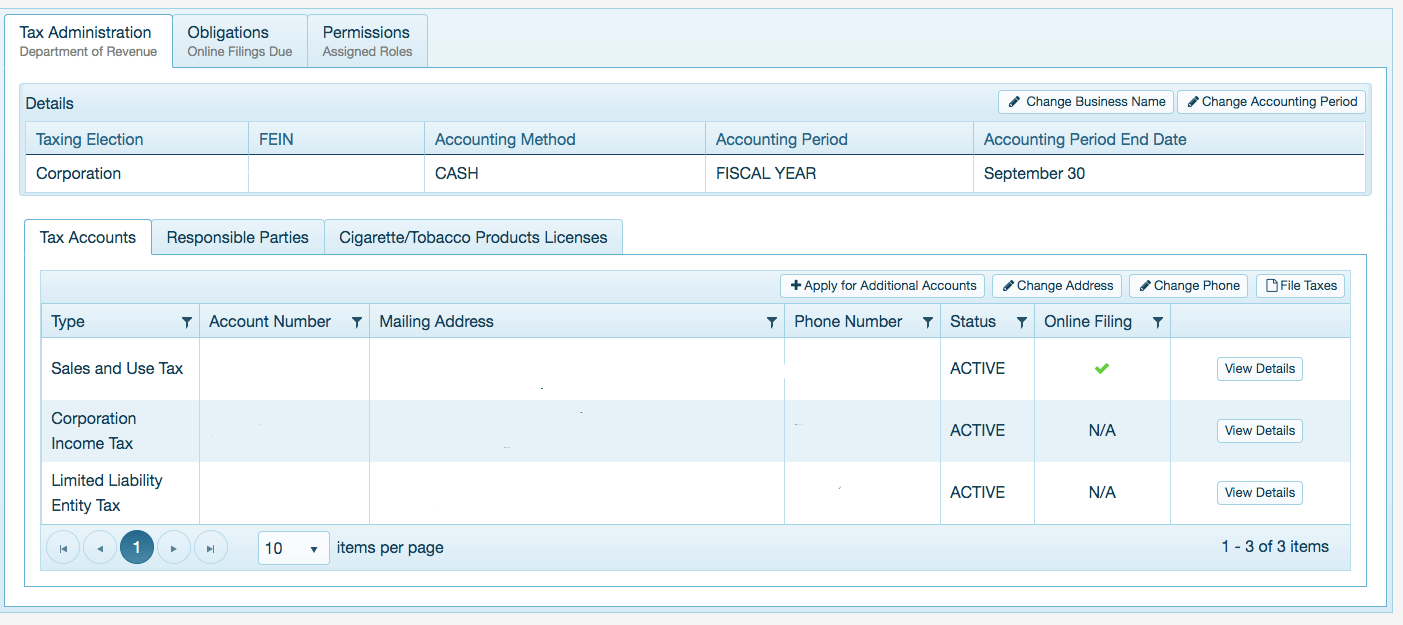 Think of these two pages as your home base. You can always come back to them if you get lost.
Take as much time as you need here to familiarize yourself with these pages. If you have any alerts or messages, you will see them on these two pages.
Once you feel that you have a good understanding of the dashboard, you can move along. If you have a filing due, the "Obligations" tab should have a red "1" in it as shown below.

Select this tab, and then select "File Taxes" off to the right.
Step 4: You will be directed to this page.
​

At this page, you should be able to click the account number and proceed to a screen that will allow you to see the filings due. Now select "File Now" on the right side of the screen.
Now you are ready to enter data.
Step 5: Key in Sales Data
If you have filed returns for other states, you will appreciate how simple and easy this part of the Kentucky return is. One of the easiest parts about a Kentucky return is that you do not have to enter sales by jurisdiction. All you need to know is the sales that you made in Kentucky and your deductions.
So now you are faced with a screen that looks something like this: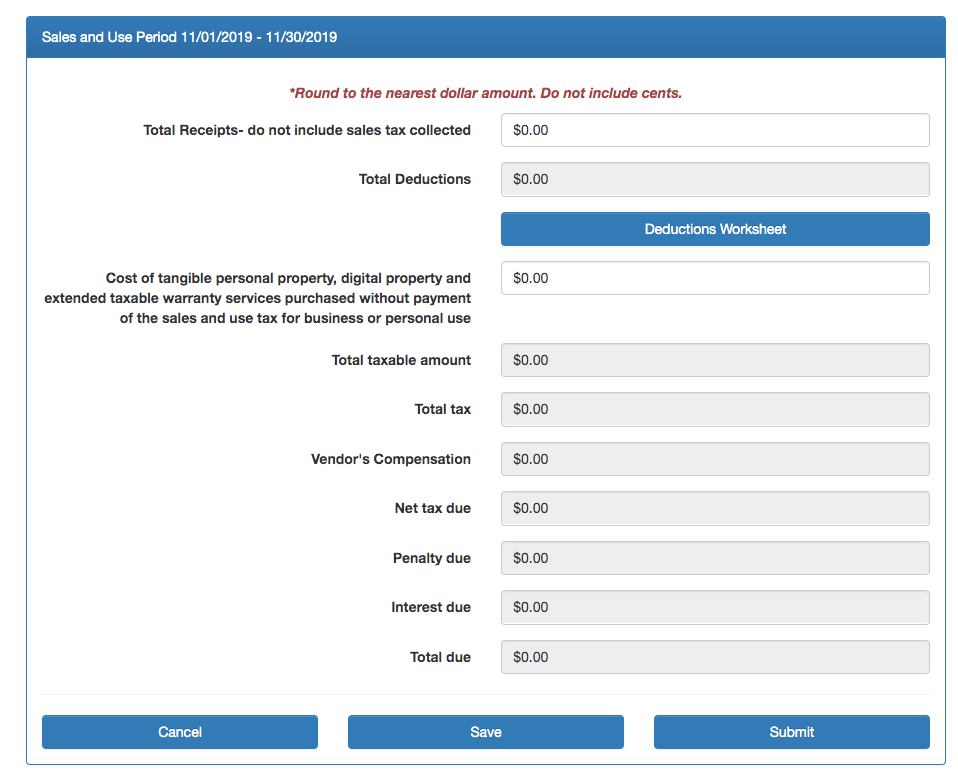 The first box is where you need to key in your sales data. Note that you do not include sales tax collected in this box.
Now you will need to select the "Deductions Worksheet" button. You will see a page with many different options to enter in your deductions.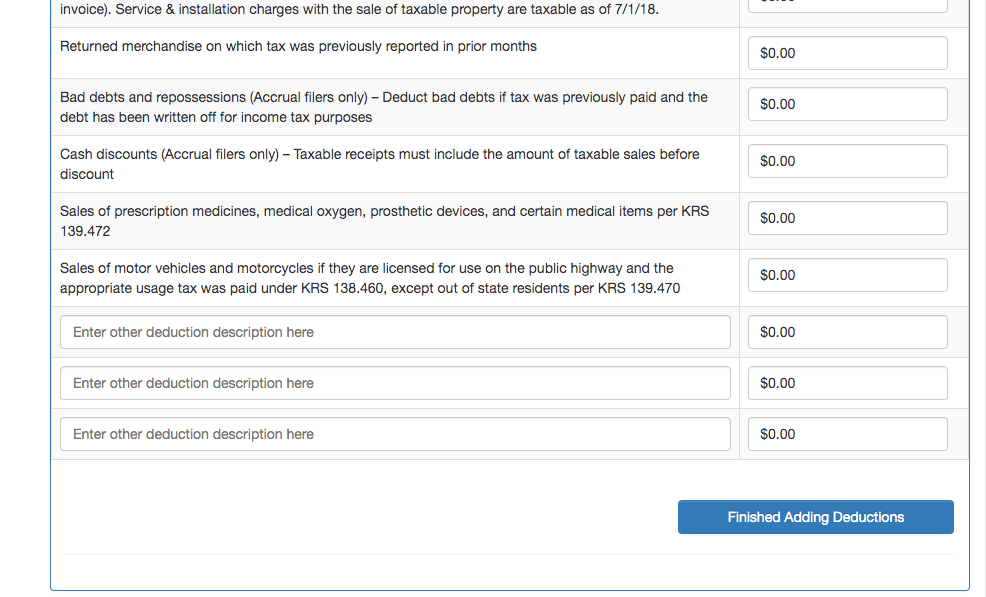 ​
At the bottom of this page, you will see three boxes where you can type in deductions that may not be included in the items listed above.
If you had any purchases that you made without payment of sales or use tax where you need to pay tax, you should key in those sales in the third box.
If this return was late, you will see the penalties and interest boxes populate to charge you. If the return is on time, you will see some amount credited to you in the "Vendor's Compensation" box. This is just a discount for filing your return on time.
At this stage, it is very important to double-check the numbers that you just keyed in. Also, be very aware that Kentucky does not want any cents added to the values you give them. So if you did not know that and you entered in cents, you likely will see numbers that are way off here.
For example, if you entered "15042.26" into total receipts, you will see '1504226" in the box now. Yikes! What a difference, right? Decimals are not recognized when you type them in these forms. So, in short, it is very important that you thoroughly check your data again.
Once you are confident that everything is correct, you can press "Submit".
Now you are finished! That was pretty easy, wasn't it?
How to Pay Kentucky's Sales Tax
If you wish to pay your sales tax due while submitting the sales tax return, select that option after filing your return. Once you do that, you will see a screen that looks like the one below.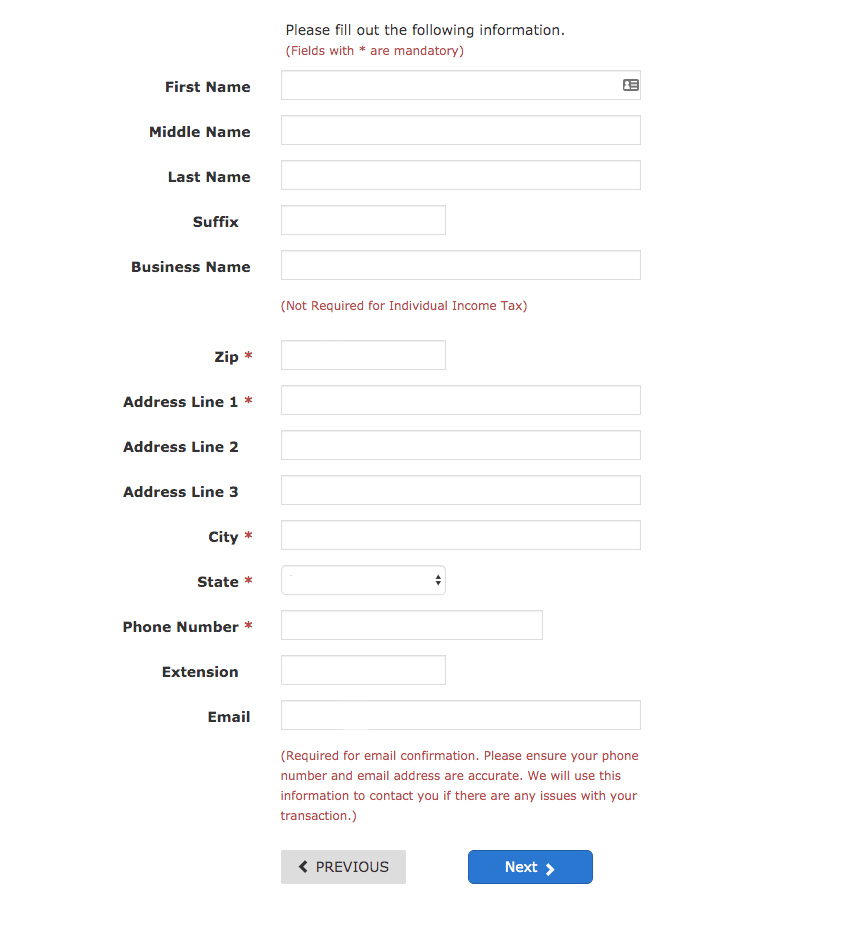 Fill in the requested information and select "Next". Now be sure that you properly fill in everything that you see on this screen. Definitely make sure that you select a timely payment date. Nobody wants to incur late fees!
Once you are sure that everything is entered correctly, hit "Submit".
Things to Consider After Filing a Sales Tax Return in Kentucky
If you forgot to print or save a copy of your sales tax return, no need to worry. You can easily go back into the period to view and/or print the return that you just filed. Go back to the dashboard and select your business name again. Now under the "Obligations" tab, select "File Taxes." Select your account number. On this page, instead of looking under the "Filings Due" tab select the "Filing History" tab.

Now off to the right of the return that you wish to view, select the "Filed" link. You will now see a clickable "Original" link. Select that and you will see a screen with a "View And Print" option off to the side.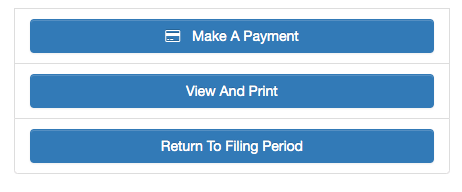 This button will allow you to print and/or save your Kentucky sales tax return.
How to Get Help Filing a Kentucky Sales Tax Return
If you are stuck or have questions, you can contact the state of Kentucky directly at (502) 564-5170 between 8:00 a.m. and 5:00 p.m. EST. You can also find additional resources at the Kentucky Department of Revenue (DOR) website.
Instead, if you are looking for a team of experts to handle your sales tax returns for you each month, you should check out our Done-for-You Sales Tax Service. Feel free to contact us if you're interested in becoming a client!